Leaders of France, Germany, Russia and Ukraine renewed their support for the ceasefire deal to halt hostilities between Kyiv and rebels in its east.
Ukraine's President Petro Poroshenko as well as pro-Russian rebels appealed for international peacekeepers to be deployed in his country's eastern region, where fighting has not ceased despite the ceasefire's enforcement on February 15.
No to peacekeepers
The proposal, however, found little support when Poroshenko spoke in a four-way telephone conversation with German Chancellor Angela Merkel, French President Francois Hollande and Russian President Vladimir Putin.
German Foreign Minister Frank-Walter Steinmeier, who is on a trip to Africa, reacted candidly to Kyiv's proposal, "This kind of a peace mission requires that we have a stable ceasefire." Steinmeier also spoke to his "Normandy format" counterparts in Russia, Ukraine and France and said all sides were ready to implement the Minsk agreements "as soon as possible."
The peace agreement, which was signed last week, was aimed at halting violence beginning February 15. Both the Ukrainian army and the pro-Russian separatists, however, refused to withdraw heavy weapons and continued to battle intensely over Debaltseve, a strategic railway hub which was finally claimed by the rebels this week.
Around 200 Ukrainian soldiers were missing or being held captive by rebels, the Ukrainian army said.
A year of unrest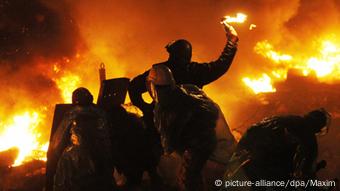 Thousands rallied in Kyiv against former President Yanukovych in late 2013
More than 5,600 people died in the conflict which began with the Russian annexation of Crimea last year, as Ukraine was reeling from political instability triggered by former-President Viktor Yanukovych's ouster in January 2014.
Thousands of people took to the streets in Kyiv protesting former Yanukovych's decision to sign a trade pact with his ally Russia, instead of a business deal with the European Union in November 2014.
His government decided to brutally quell the revolution at Kyiv's central square, the "Maidan," killing and wounding hundreds. The former president fled to Russia, which has refused to deport him to Ukraine.
Poroshenko was expected to deliver a speech to mark the event later on Friday.
mg/rc (AFP, dpa)