It was "simply astonishing," Boris Nannt, the deputy spokesman for the ministry of defense who routinely sports his grey army uniform at press conferences, told journalists earlier this week, that army officials who were presented with evidence of right-wing extremism did not inform the military's counter intelligence services, the Militärische Abschirmdienst (MAD).
Instead, it seems they may have looked the other way. Nannt was referring to the recent scandal that has rocked Germany's Bundeswehr. It's a scandal with twists and turns that could have been borrowed from a badly-written movie plot and involves an officer allegedly plotting a racially motivated attack while posing as a Syrian refugee - and the question whether right-wing extremist views were deliberately ignored by superiors, or worse.
-The Bundeswehr's image problem - is it overrun with right-wing extremists?
- German officer-refugee probe shifts to 'hit list'
It started with the arrest last week of 28-year-old army lieutenant Franco A., who was stationed at the Franco-German base Illkirch, a French town close to Strasbourg. This followed an investigation after Austrian police caught him with a handgun at Vienna airport back in February of this year.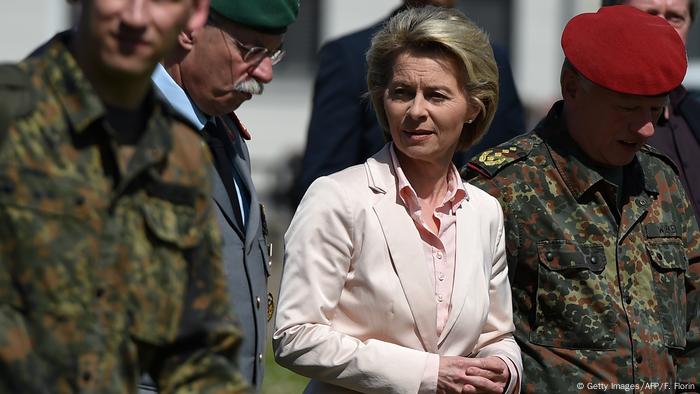 Ursula von der Leyen lambasted "weak leadership" in the military
Superiors "looked the other way"
In the course of the investigation, it emerged that Franco A., who doesn't speak any Arabic, had registered as a Syrian refugee in early 2016.
It has also emerged that A. harbored right-wing extremist views, which he clearly expressed in a masters thesis he submitted in 2014. According to German media reports, he argued that immigration was causing a "genocide" in Europe. He also reportedly kept memorabilia of the Wehrmacht, Germany's armed forces during the Nazi era.
However, while a French commander informed the suspect's German superiors, they did not trigger any disciplinary actions and the paper was buried - a fact that German Defense Minister Ursula von der Leyen has called "unacceptable."
In an interview earlier this week, she lambasted the army for a "misunderstood esprit de corps" and officers "who looked the other way."
It's still unclear why A.'s superiors didn't involve the MAD, which is tasked with preventing espionage and sabotage in the army, both in Germany and abroad. In order to do so, the MAD checks soldiers for possible extremist attitudes and activities.
Investigation into 280 cases of right-wing extremism
Between 2012 and 2016, 18 members of the military were suspended from duty because they held right-wing extremist views, according to Nannt. At the moment, he added, the MAD is investigating a total of 280 cases of suspected far-right sympathizers.
Had A.'s superiors involved the MAD, the defense ministry would have been made aware of the case, Nannt stressed. Instead, it was up to the Austrian police to inform their colleagues of A.'s strange behavior.
When asked whether the German army had a higher than average number of right-wing sympathizers, Nannt stressed that "the spread of right-wing extremist ideas" had to be stopped.
André Hahn from the opposition Left Party, a member of the parliamentary committee that supervises Germany's intelligence services, including the MAD, told DW that the events all pointed to the fact that "things are going terribly wrong" in the Bundeswehr. But he also added that the methods adopted by military's security services were "inadequate," given that so few soldiers had been suspended from duty despite the high number of ongoing investigations.
"It's unclear when the MAD draws a line and suspends a soldier, thereby barring his access to ammunition and weapons."
Army personnel holding extremist views is a topic that would ring alarm bells in most countries, but it's a particularly sensitive topic in Germany, given it's history - and the fact that post-war Germany did little to purge high-level former Nazis from both its army and bureaucracy.
As of June or July, he added, recruits would be vetted more thoroughly to make sure the army from employing anyone with "the wrong school of thought."
Defense minister von der Leyen has also vowed an investigation into the case and called a crisis meeting behind closed doors with 100 top army generals and admirals in Berlin on Thursday.
The investigations conducted by German prosecutors as well as the MAD are likely to focus on the question of whether Franco A. was part of a broader network. "We don't know at this point," the inspector general of the German army, Volker Wieker, told public broadcaster ARD on Thursday.
Speaking during a visit to A.'s base in Illkirch, von der Leyen alluded to a possibly more wide-spread problem when she predicated that the the process was likely to "cost us much energy and also strong nerves because additional issues will come up."