Global food giant Nestle said it will begin a new initiative to end child labor in the cocoa industry. The company engaged the Fair Labor Association to examine its supply chains throughout Ivory Coast, the world's biggest exporter of cocoa, in a bid to find out exactly where children are working.
The chocolate industry is worth over $90 billion (69 billion euros) a year, but, 10 years after promising to end child labor, fair trade groups said chocolate producers have done little to honor their commitments.
In 2001, the world's biggest chocolate producers, including Nestle, signed what has become known as the cocoa protocol, an international agreement to end child labor in the cocoa industry. The move came amid growing evidence that tens of thousands of children were working planting and harvesting cocoa plants; many had been trafficked from neighboring countries, most were denied the chance to go to school.
Talk but no action
But in the 10 years since, little progress has been made, and some non-governmental organizations are threatening legal action against the big chocolate producers, in the hope the subsequent publicity may shame them into action.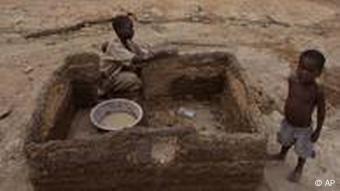 Children have provided cheap labor on cocoa plantations, NGOs said
That threat of legal action and unwelcome media attention may be one reason why Nestle has decided to act. The company has been, as even some of its managers privately admit "the company everyone loves to hate" because of the scandal surrounding its sale of baby milk formula to the developing world.
Nestle Vice-President Jose Lopez said he is determined to face up to the issue, even if his promised investigation into child labor yields some very uncomfortable truths.
"We are sure that there are children working in Nestle's supply chain," he admitted.
"But we are not even sure what that supply chain looks like: the trade of cocoa is not a simple process, there are a number of intermediaries. I am not in a position to say there is no child labor. I might not be able to say that for a number of years with certainty and with guarantees."
The reason there is such little clarity, chocolate producers said, is because the business of growing cocoa is complicated, and lacks transparency. Cocoa beans grown on hundreds of thousands of small farms across Ivory Coast are purchased by intermediaries, who may not be interested in checking for child labor, before being sold on to buyers for the chocolate companies.
In order to take a closer look at the long chain of supply from farm to chocolate bar, Nestle engaged the services of the Fair Labor Association (FLA), a not-for profit organization which works with companies such as Nike, Adidas, and clothing giant Hennes and Mauritz.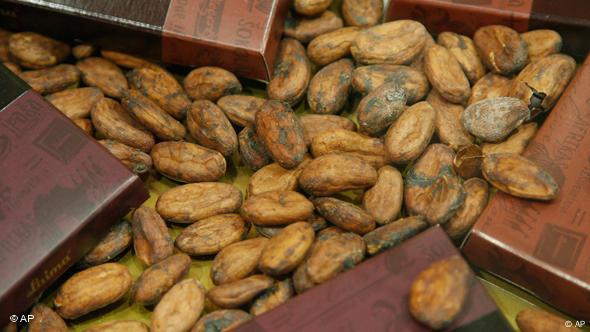 Hundreds of cocoa beans go into a kilogram of chocolate
Nestle is the first food producer on FLA's books, and association president Auret van Heerden said examining thousands of small farms across Ivory Coast will be a far more challenging exercise than for example checking out a Nike factory.
"We take every task from the moment they decide to plant a crop, clear the land, and plant it," he said. "We break it down: who sprays, who plants, who harvests, and we attach a risk to each task, and we know in which week each task and each risk will occur and we know when the risk of child labor is highest."
Game changer for food production
After evaluating the times when child labor is most likely, van Heerden said the association would travel to a selection of farms supplying Nestle to conduct unannounced analysis of labor practices.
The FLA said it expects to have initial results from inspections of Ivory Coast cocoa farms in the spring of 2012. Nestle said it will publish the association's finding and recommentations in their entirety.
Van Heerden said he believes Nestle's decision could pressure other chocolate producers, and indeed other food manufacturers, into taking action too.
"Nestle, given that it is the leading food company, has the capacity to set off a race to the top," he said. "Once Nestle tackles this in the robust way that we will, the spotlight is going to be on the other food producers, and consumers and the media are going to be saying, 'What are you doing about Ivory Coast?' This could really be a game changer for the food sector."
Consumer guilt
Other NGOs are watching the Nestle policy and said consumer pressure has been instrumental in pushing for change, according to Steve Chalke of the anti child labor group Stop the Traffik.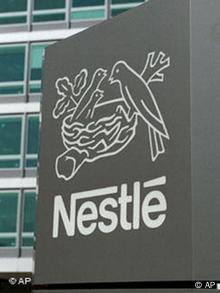 Nestle booked some 28 billion euros in profits in 2010
"The change in attitude of Nestle and other big chocolate manufacturers is because their shareholders know they can't get away with this anymore," Chalke said.
"There is a change of will, but I think that change is driven by a desire to survive," Chalke added. "As long as consumers are willing to say I don't eat chocolate that is not fairly traded and I do not eat chocolate that has slavery as part of its production, then this will to change will persist on the part of Nestle and their rivals."
Nestle's Lopez didn't argue with that interpretation, in fact he took it further. While he may have personal moral and ethical objections to children harvesting cocoa beans for Nestle, his real objection is a hard-headed business one: across the developing world the demand for chocolate is increasing fast, and, he said, a supply chain based on child labor simply will not efficiently deliver the huge amounts of cocoa required.
"We are just not willing to accept that [child labor] anymore," he said. "Not because Nestle has turned into a wonderful NGO, but because the supply chain. There is a simple sustainability issue there, if we don't worry about the supply side, the life of the farmers, there will be no cocoa."
Lopez admitted Nestle's policy would end up adding to the company's cocoa bill.
"Yes, we are going to have to pay more," he said. "Hopefully there will come a day when consumers realize that they too must pay more. It's not just for Nestle, it's for society to pay more."
Author: Imogen Foulkes
Editor: Sean Sinico