It's not a raucous rally, but a demonstration like any other: That's how organizers are framing Sunday's Kyiv gay pride parade.
Calling it a "march for equality," hundreds of LGBT activists plan to pass through the Ukrainian capital carrying slogans against discrimination. With Ukraine trying to get closer to the West, they've redoubled their efforts to assert their rights.
"This is the main reason for carrying out such marches," Sorjan Kis, one of the organizers, told DW. "It's not about sexuality. It's about rights."
Violence from right-wing extremists
What's long been a peaceably carried-out tradition in the West is a novelty and cause for conflict in Ukraine. In March, LGBT activists wanting to organize a festival in the western Ukrainian city of Lviv faced serious threats from far-right groups. Citing security concerns, a court banned all public gatherings in the city center. LGBT activists gathered in a hotel and could only get out under police protection, but were still targeted by right-wing rock throwers.
In the previous year and despite police protection, "Kyiv Pride" was overshadowed by violence that resulted in scores of injuries, including among police. The 2014 parade had to be cancelled outright.
This time the police want to deter any form of violence with a particularly large presence. More than 6,000 security personnel will be on hand - four times more than last year. The right-wing threat lingers, however. A spokesperson for the far-right paramilitary organization "The Right Sector" warned of a "bloodbath" should the LGBT demonstration take place. Another opponent to "Kyiv Pride" published a petition on the Kyiv city hall website that would ban all LGBT events. About 14,000 people signed it.
Little acceptance
The Kyiv International Institute for Sociology (KMIS) found about 60 percent of Ukrainians hold a negative view of homosexuals, according to its survey in February. Only 5 percent support same-sex partnership; three-quarters strongly oppose it.
Politicians are also split. In the past year, the Ukrainian parliament needed multiple attempts to abolish workplace discrimination, which included protections for homosexuals. The reform was a European Union prerequisite for easing travel conditions for Ukrainian passport holders. "God forbid this passes. We'll never support it," Wolodymyr Hrojsman, then chairman of the parliament and currently prime minister, said before the vote.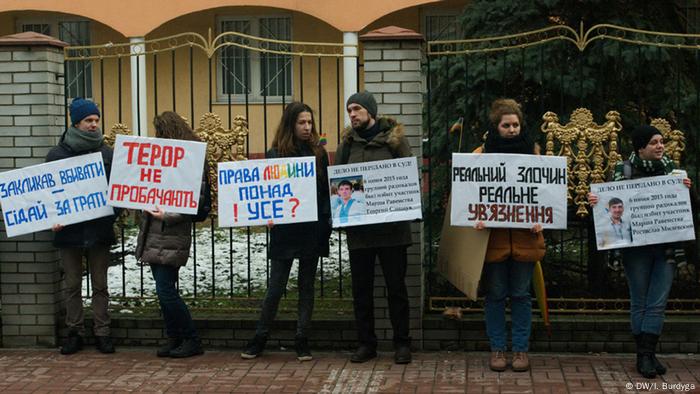 Demonstrators in Kyiv protested LGBT violence in February
'I feel we're in a new country'
The "Kyiv Pride" organizers sense a positive shift ahead of the event. For the first time, the Kyiv underground is allowing ads to publicize the parade. "I feel we're in a new country," Kis said, adding police cooperation has also improved along with government support. Vice Minister Ivanna Klimpusch-Zinzadse lent her support in a video message, hoping "we can present a nation that is tolerant, wise and fair."
Foreign government officials are also getting involved. The U.S. State Department LGBT special envoy, Randy Berry, announced his participation. Rebecca Harms of Germany's Green Party in the EU Parliament is also scheduled to take part.