The PDK party of Kosovo's Prime Minister Hashim Thaci has won parliamentary elections, according to the country's Election Commission on Monday.
Thaci is expected to form a coalition, although he may have trouble convincing his rivals to join him in government, as opposition parties continue to cry foul over alleged election fraud, with some refusing to serve as coalition partners.
Thaci's PDK won 33.5 percent of the vote, followed by its former coalition ally, the LDK, with 23.6 percent. The Vetevendosje party took third place with 12.2 percent. Voter turnout was just under 48 percent.
"This was a vote for the European Kosovo, a referendum of citizens on our good governing," Thaci said.
Opposition cries foul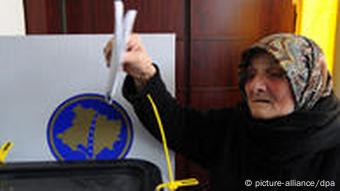 1.6 million people were eligible to vote in Kosovo
But opposition parties are concerned about electoral fraud, as some Thaci strongholds showed an unusually high turnout.
"The turnout of 94 percent is statistically impossible, logically unreasonable, politically unacceptable and legally contestable in Kosovo's reality," LDK spokesman Arben Gashi said of one of those strongholds.
European election monitors said they were aware of these allegations, but said it was a "generally well-organized election day," according to Doris Pack, head of the European Parliament observer mission.
In a joint statement, the EU's foreign policy chief, Catherine Ashton, and EU Enlargement Commissioner Stefan Fuele praised Kosovo for the "calm and orderly manner in which the majority of the voting took place."
The elections are Kosovo's first since declaring independence from Serbia in 2008 and are seen as a key test for the country's democratic mettle and its suitability for EU membership.
The elections were called early after a vote of no-confidence was submitted two weeks after Thaci's coalition fell apart when former President Fatmir Sejidu pulled his party out of the governing coalition.
"It is important now to rapidly form a new government and to elect a new president," said Ashton's and Fuele's statement.
"We have much work ahead of us in the coming year, so that Kosovo can further advance towards the EU," the statement read.
Author: Nicole Goebel (Reuters, dpa)
Editor: Martin Kuebler