Voters in Kosovo are to go to the polls in snap elections on Dec. 12, after Prime Minister Hashim Thaci's weakened government supported a no-confidence vote in the country's parliament.
The southern Balkan state's first elections since it declared independence are expected to delay the start of European Union-sponsored talks with Serbia on improving their bilateral relations
Dialogue should start "only after new institutions emerging from these polls are constituted," interim President Jakup Krasniqi told reporters in Pristina.
Belgrade has refused to recognize Kosovo since the former Serbian province unilaterally declared independence in 2008. The EU has been trying to get Pristina and Belgrade to hold direct talks in a bid to normalize relations between the two sides.
Preparations for early elections are also expected to delay plans to privatize the state-owned telecoms firm and choose a company to build a badly needed coal-fired power plant this year.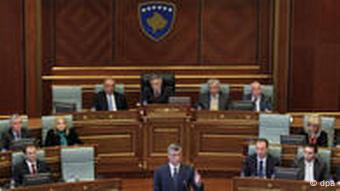 Elections may delay key decisions on privatization.
Kosovo is the youngest and one of the poorest countries in Europe with an unemployment rate of more than 45 percent.
Thaci brought down own government
The no-confidence motion on Tuesday was supported by 64 of the 120 legislators. It was submitted two weeks after Thaci's coalition fell apart when former President Fatmir Sejidu pulled his party out of the governing coalition. Sejidu also stepped down as president in mid-October, after the country's constitutional court ruled that he could not be the leader of a political party and the country's president at the same time.
Interim President Jakup Krasniqi immediately dissolved parliament and announced the polls, which under Kosovo's constitution, have to be held within 45 days.
Thaci's own deputies voted against the government and he later expressed satisfaction at the outcome of the vote.
"The vote by the members of parliament is a vote for the future of Kosovo. It is a responsible decision that will mark a new beginning for the state of Kosovo," he said.
Author: Natalia Dannenberg (AFP, Reuters, dpa)
Editor: Chuck Penfold