Haradinaj dismissed his top security officials Friday, accusing them of failing to brief him on Thursday's sudden arrests of the six Turks and their deportations to Turkey.
"The entire operation – revoking their residence permits, detention, emergency deportation and the secret extradition to Turkey of the six Turkish citizens from Kosovo territory – was conducted without my knowledge and without my permission," Haradinaj declared in a statement.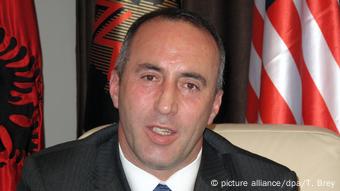 The extradited men were teachers at schools in Pristina and Gjakova, whom Turkey alleges had links to the movement led by the US-based Muslim cleric Fethullah Gulen, according to the German news agency dpa.
Ankara blames Gulen for the failed 2016 coup in Turkey, a claim his movement denies.
Nazi Ulus, principal of one of the schools, told Reuters on Thursday that one of the arrested Turks, Mustafa Erdem, was the director of all Gulen schools in Kosovo.
Turkey's state-run Anadolu Agency said Turkey's MIT intelligence agency had used a private plane to take those arrested to Turkey.
Ankara pressured Kosovo
Turkey had put pressure on Kosovo in recent weeks to take action against local schools funded by the Gulen movement.
On Thursday, Turkish Prime Minister Binali Yildirim visited Bosnia, another former Yugoslav region with a Muslim majority, and asked its government to do more against Gulenist schools on its territory.
It was not immediately clear in Pristina who would replace Interior Minister Flamur Sefaj and intelligence service chief Driton Gashi.
Turkey has been a major supporter of impoverished Kosovo, which declared independence from Serbia in 2008 and had a stated policy of not closing down Gulenist schools.
The Gulen movement ran or currently runs schools in around 160 countries worldwide, including the United States, where Gulen resides.
ipj/kms (Reuters, AP, dpa)