Four security guards are standing outside, though they're not checking bags. The tough looking men with the walkie-talkies don't seem to be taking their job that seriously. Organizers have said this club, Rocco & Sanny, is one of the hippest in Berlin - making it an unusual location for the Jüdische Kulturtage, Berlin's annual festival of Jewish culture.
"Tel Aviv meets Berlin" is the title of the party, featuring DJs from both cities. Decorated with colorful lights, the inner courtyard of the bar is still relatively empty. A few women in high heels are swaying to the beats of Berlin DJ Shicco (pictured left). His colleague from Tel Aviv is still getting warmed up.
"Dancing and sports bring people together," philosophizes Verner Liebermann, who organized the evening together with his partner Daniel Stern.
Dressed in a Berlin cap and a summery t-shirt, 30-year-old Liebermann is a professional. He's been putting on the Hanukkah Ball in Berlin for years, which draws both Jews and non-Jews. "Many people associate Judaism with the Holocaust. Hardly anyone thinks of partying," he says.
More than 15,000 Jews live in Berlin and have brought their culture with them. Liebermann aims to create a party with a "casual atmosphere," just like those in Tel Aviv. He regularly visits the Israeli city known for its trendy nightlife.
Relaxed in Berlin
The bar has gotten a bit fuller by now; around 50 people have found shelter from the rain in the sparsely furnished club. Most of the 30-somethings are dressed casually. They're speaking English, Russian, German - but not Hebrew. When the song "Tel Aviv Habibi" comes on, a few fans of the Israeli metropolis jump around on the dance floor.
DJ Rap A Toi (pictured above, right) says his friends often fly to Berlin to party. He grew up in Cologne, but has lived in Tel Aviv for the past nine years and says he feels Israeli. The last two months have been difficult, he adds. He's feared an attack and has stopped going to the beach where there is no protection from an air raid.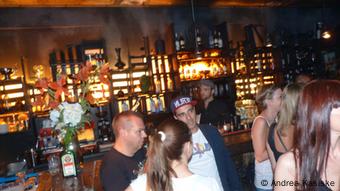 A taste of Tel Aviv in Berlin
In Berlin, things are a lot more laid-back, says DJ Rap A Toi.
Living with apprehension
Esther Tscherniak sees things differently. Together with a young bearded man, the tall, blond woman is handing out flyers for a demonstration against anti-Semitism. Both attend a Jewish high school and say they feel threatened by the "growing hate against Jews" which they've witnessed at local protests against the war in Gaza.
They never used to be afraid, they say, but now there's a concern that something could happen at Jewish events like the Jüdische Kulturtage. They wouldn't venture into the Turkish-Arab districts of Berlin - like Kreuzberg and Nezukölln - and if they did, then they would take off their Star of David necklaces, Tscherniak says.
Hermann Simon, artistic director for the Jewish cultural festival, says plans for the event began long before the conflict in Gaza broke out. From the beginning, Simon hoped to bring together Jews and non-Jews with the Jüdische Kulturtage, but the events of the past two month have made that goal all the more urgent for him.
The program largely focuses on music, literature and film. Simon says he didn't want to force a political discussion, but if individual artists express their opinions about the war in Gaza, he wouldn't stop them.
Tasty fusion
At the traditional street party in front of the Jewish center on Fasanenstrasse, politics isn't an issue. The mood is relaxed - thanks to the late summer weather.
Flyers reading "Never again hate against Jews" have been laid out on the info tables, but people are chatting about pragmatic everyday issues, not the war in Gaza: Where can you buy the sabra, a chocolate orange liqueur from Israel, in Berlin? And where can you get kosher cheese?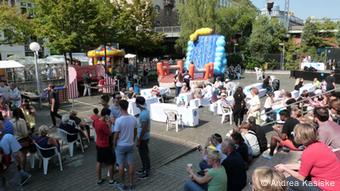 Crafts, food and music - not politics - are on the agenda
While adults sample Israeli delicacies, children make crafts or climb on the blow-up wall. The music streaming from the outdoor stage is similar to the food on offer - a fusion of Middle Eastern and eastern European cuisine.
Mian Eftekhar's stand selling aromatic herbs fits right in. Originally from Afghanistan, Eftekhar has participated in the street festival for the past seven years. He says the people are nice, he doesn't care about religion, and he's "first and foremost a businessman."
Paving the way to understanding
At the stand run by Orthodox Chabad Jews, a boy wearing a kippah tries to play a shofar, a traditional instrument made from a ram's horn. Nearby, Gal Wayne Titan, wearing a customary black outfit and prayer shawl, says he worries about a rise in anti-Semitism, adding that it's not as bad in Germany as it is in France.
Gal Wayne Titan says he doesn't hide his kippah in public and has never run into trouble because of it. Perhaps the Jewish cultural festival can help make sure it stays that way, he adds.