Earlier this month, Ahn Yoon-joon, a retired civil servant living in Seoul, received a phone call from the South Korean Red Cross, informing him that his family had been selected to participate in this week's rare gathering.
The 86-year-old who fled his North Korean hometown during the Korean War in 1950 thought this day would never come. "I applied for the last round of reunions in 2014, but didn't get picked. I had given up hope this would ever happen," he says.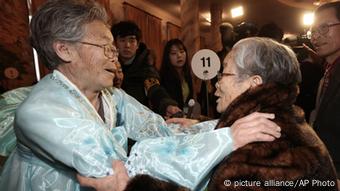 The reunions are the first - and often the last - time that families will see or speak with each other
The Red Cross, which has overseen the gatherings since they first began in 2000, says about 66,000 South Koreans are still waiting to be reunited with northern kin. The organization coordinates with its counterpart in the North to link-up the divided families. Most applicants are over the age of 70.
Once the three-day long reunions are over, the families will return to their respective homes, knowing that this was the one and only chance they'll have to meet with, or even speak with, their relatives since phone and mail service between the two Koreas remains forbidden.
But for Ahn Yoon-joon, who will travel to North Korea's Mount Diamond resort on Friday along with his wife and their only son, the chance to reunite with his two younger sisters is bittersweet. He says that's because the Red Cross issues strict guidelines on how participants can and cannot interact with their lost loved ones.
"When I read these rules, I started to cry," Ahn says. "I've waited 70 years for this. What's the point of meeting if I cannot even ask questions like how has life been for you all these years?"
The pamphlet he received instructs the South Korean participants not to talk about North Korea's food scarcity, and to change the subject if their relatives try to discuss politics. It also lists what are appropriate gifts to give, such as underwear, toothbrushes and wristwatches that cost less than 88 euros ($100 dollars).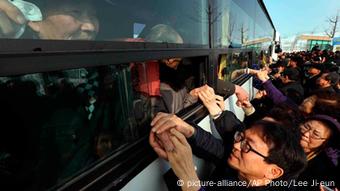 The family reunions are bittersweet because of strict guidelines that limit interaction beween family members
Park Hee-jin, a communications officer at the South Korean Red Cross, explains these rules were implemented out of concern for the possible cancelation of reunions and because of the "differences in perspectives over these sensitive issues."
Since their inception during the period of Seoul-sponsored engagement, known as the Sunshine Policy, the family reunions have been carried out mainly on Pyongyang's terms. The vast majority of the approximate 16,000 South Koreans who have been reunited have done so in North Korean territory or via video conference.
The South Korean government and Red Cross maintain they make repeated requests to North Korea for more reunions, but are often turned down. Some observers, such as Jasper Kim, a professor in the Division of International Studies at Seoul's Ewha Women's University, say Pyongyang uses the divided families as bargaining chips to gain economic concessions from the South.
"North Korea doesn't have much in terms of natural resources or economic power. But what it's going to do is maximize what it does have," Kim says. Pyongyang's leverage over the family reunions lies in its ability "to say yes, or more explicitly to say no and we see this year after year," he adds.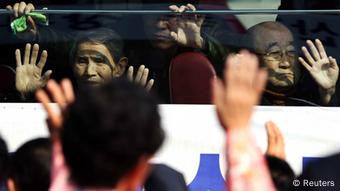 Observers say North Korea is using family reunions for political leverage
Shim Gu-seop of the Inter-Korean Separated Family Association says giving into Pyongyang's demands is a necessary evil. The 81-year-old has taken reunions into his own hands and has helped dozens of South Koreans to make contact with their relatives in the North via Chinese middlemen that smuggle cell phones, letters and packages across the border.
But it's the responsibility of the Seoul government to make the reunions more frequent and ensure families can stay in contact, no matter what the cost, he says. "Even if Seoul has to secretly give assistance to North Korea," it would be worth it if it allows for more reunions, he adds.
Despite the long wait, Ahn Yoon-joon says he's not nervous about his upcoming reunion with his sisters. He says he is ready to answer any of their questions, even if he already feels let down by the whole encounter.
"I don't know if we are going to meet again and I can't even talk about the things I want to talk to my sisters about," he says resigning to the reality of his situation. "I guess I'll just stare at their faces and that will be it."