Happily traipsing through the Halle Zoo with her 1-year-old son, Janine Bauer watched in horror as she saw a 4-month-old baby Malaysian tiger choking.
"The tiger tried to eat a piece of meat that was too big and started choking and shaking and then fell over," Bauer, told MDR radio. "He shook a little more then there was no more movement. He seemed pretty much gone.
"My son and I were so upset because he is such a beautiful creature."
But quickly realizing this was not the moment to teach her son about Darwin's rule of survival of the fittest, she rushed to get the animal's keeper.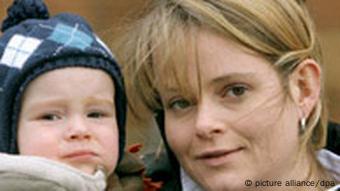 The zoo named the tiger Johann after Bauer's son
"There is this nice woman, who I'd call an angel of the night, who says she knows a little about medicine and asks if she can help," animal keeper Thorsten Westphal told MDR.
The next thing anyone knows Westphal has locked the -- obviously irresponsible -- mother tiger in a separate cage, and Bauer is on her hands and knees above the unconscious tiger giving it the kiss of life.
"We got the piece out but he wasn't breathing so I massaged his heart and then I did what I would do for humans -- mouth to mouth resuscitation," she said. "After about four he came to, thank God."
The zoo, which held a ceremony on Friday, Feb. 1, to thank Bauer, has decided to call the tiger Johann, in honor of her son.
Despite the spectacular revival, and possibly due to Malaysian tigers' notoriously bad breath, Bauer said she has no plans to trade her studies of human medicine for a career as a vet.