Then again, maybe it's less the animals and more the people outside the German capital who are vying for the limelight in the cute animal arena. It's not really a stretch anyway for the citizens of Cologne, who have a penchant for thinking themselves the center of the universe.

So, true to form, they've started a major campaign to name their city's latest animal addition: a baby elephant that glimpsed the world last week.

Its release from the womb has unleashed a provincial media frenzy in the Rhine River city.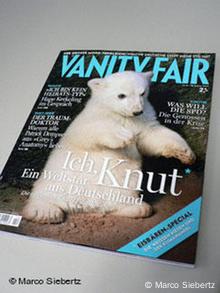 Coverboy Knut

Since the animal's birth, the city's tabloid Kölner Express has been urging readers to send in their name suggestions for the baby boy born to mother Tong Koon on April 16. Submissions have ranged from "Somo," to "Marlon," "Pano" and "Benjathong."

"An Asian ring to it"

Topping the list, however, (and my personal favorite) was "Bendetto" -- the nickname given to Pope Benedict XVI when he took up his post two years ago. Express readers thought it appropriate that pope and elephant partake in a mutual term of endearment since they share the same birthday.

Is that a taunt we detect peeking out of Knut's mouth?
But Cologne's ego-centrism has won out. The "mini-phant" (as the city's Express readers had dubbed their little darling for the short term) is due to be christened "Ming Jung" on Wednesday, April 25.

After a series of intense jury deliberations about the trunkster's alias, Cologne Zoo Director Theo Pagel said the "Ming Jung" suggestion was perfect.
"It sounds like the Cologne dialect and has an Asian ring to it at the same time," he said.

He added that its melodious sound rolled off the tongue quite well.
"Ming Jung," one might add, is the Cologne dialect expression for mein Junge, or "my boy."

Only the people of Cologne could detect the symmetries between their city and the Orient.

Breeding zoo for Asian elephants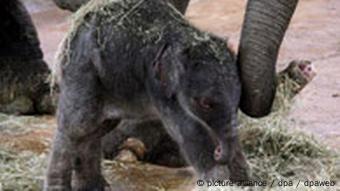 Marlar, just one year ago
Then again, Ming Jung's mother Tong Koon immigrated with four other elephants to the Cologne Zoo just last September, so we'll cut 'em a little slack.

Meanwhile, the other stellar-phant Marlar has just celebrated her first birthday at the zoo. "Marlar is a bit dazed and confused about her new little playmate, Ming Jung," said zookeeper Werner Naß.

If the births of the baby-phants keep going (another one is expected at the end of May), Knut may just get a run for his money after all. As Cologne Zoo Director Pagel said: "Who's Knut, anyway?"