Kim Dotcom, a German national who was granted residency in New Zealand in 2010 on wealthy investor criteria, said Friday he had settled with police for what New Zealand's New Herald newspaper said was a confidential six-figure sum.
The Auckland-based daily said it had learned that earlier settlements had been reached between police and others arrested, including co-accused Bram van der Kolk and Mathias Ortmann.
In January 2012, 70 armed police including an anti-terrorism squad stormed Dotcom's mansion north of Auckland to arrest him at the request of US authorities who allege his former website Megaupload massively breached copyright.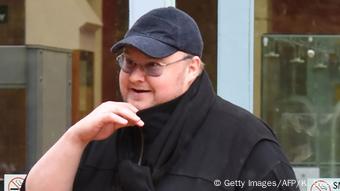 Dotcom is still fighting extradition to the USA
New Zealand's High Court subsequently questioned the validity of the search warrants used.
Dotcom: 'Held at gunpoint'
On Friday, Dotcom said being held at gunpoint together with his then wife Mona, who was pregnant, amounted to a "Hollywood-style publicity stunt," far beyond what he regarded as typical of New Zealand police.
The entrepreneur said he and his ex-wife had decided that seeking compensatory vindication at a lengthy New Zealand's court hearing would not have been in the best interests of their children.
"The New Zealand police we know do not carry guns. They try to resolve matters in a non-violent manner," said Dotcom, adding that police could have instead knocked on his door at a "reasonable hour."
The US-brought charge of copyright infringement was "not even a crime in New Zealand,"said Dotcom, who was born as Kim Schmitz in the northern German city of Kiel in 1974.
Dotcom and three other defendants are still fighting US attempts to extradite them from New Zealand on 13 counts including copyright infringement and conspiracy to commit racketeering.
Extradition still uncertain
A New Zealand Court of Appeal hearing on the extradition bid is set for February next year.
In early October, the US Supreme Court rejected a challenge by Dotcom and others to a lower US court's ruling that the US government could seize up to $40 million (€34.3 million) in assets held outside the United States.
US authorities allege Dotcom and his colleagues deprived film studios and record companies of earnings by encouraging paying users to download content.
ipj/ng (Reuters, dpa, AP)