Many Kenyans will be waiting with suspense and concern over the next few days for more clarity about the new presidential elections. The election is currently scheduled for October 26. But after opposition leader Raila Odinga's unexpected withdrawal on Tuesday evening, the decision is now up to the courts and the Indpendent Electoral and Boundaries Commission (IEBC). The opposition party, the National Super Alliance (NASA), had expected Odinga's withdrawal to result in the election commission canceling the upcoming elections and demanding new nominations of candidates. This has not yet happened.
Read more: Kenya opposition leader Raila Odinga withdraws from presidential election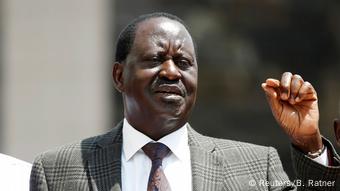 Opposition leader Raila Odinga withdrew on Tuesday
While the electoral commission and its legal departments are discussing a possible course of action, the court has now approved a new candidate for election: Ekuru Aukot, representative of a small opposition party, will be allowed to participate. That is, if the election goes ahead.
Aukot received only 27,000 of the 15 million votes cast in the original presidential election in August. Uhuru Kenyatta, who has been in office since 2013, won the presidential election. Odinga then accused him of electoral fraud and successfully sued him in court. He had repeatedly called for changes in the electoral commissions in order to create more transparency in the way in which votes are cast and transmission of results.
At the beginning of September, the Supreme Court annulled the presidential election and ordered new elections to be held within 60 days. However, according to James Mwamu, former president of the East African Society for Law, Odinga's withdrawal, so close to the election, does not offer a solution.
"Even if the elections take place now, the question of legitimacy will return. It will then probably be cancelled again," Mwamu told DW. "It's impossible to call a quick election in all 290 constituencies. The elections would be unfair, and we'd end up back in court."
Mwamu does not believe in a legal solution, because it would end up being endlessly interpreted in court. He argues that what is needed is a political agreement.
"We now need a little more sobriety and mediation in party political talks," he said. Otherwise, he believes there is the threat of a deepening political crisis. Yet he does not think that there will be violence on the streets of Nairobi, although the situation could change. On Wednesday, police in some city districts fired tear gas at opposition demonstrators who, in retaliation, set fire to car tires and threw stones.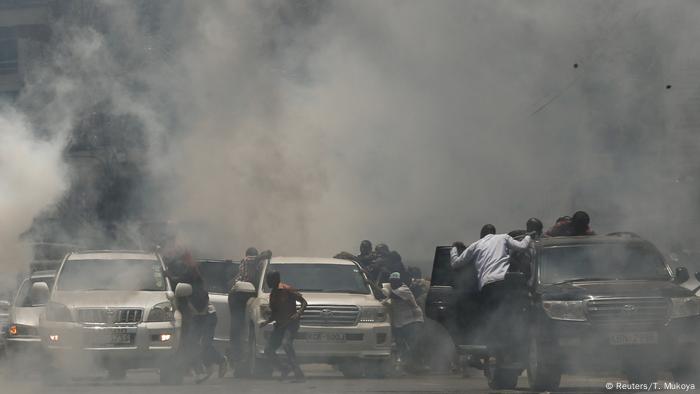 Riot policemen fired tear gas on demonstrators in Nairobi
President Uhuru Kenyatta has insisted on keeping to the election date of October 26. His Jubilee Party has used their parliamentary majority to amend a controversial electoral law. This means that if one candidate throws in the towel before a new election, the other candidate automatically wins. However, this amendment will not apply to Odinga's resignation, Kenyan lawyer and constitutional expert Bobby Mkangi told DW. "Odinga withdrew when the amendment to the law was still a bill, so it will have no consequences in this situation. The existing law still applies. First the President must sign the amendment."
Read more: Kenya election confusion deepens as parliament passes controversial amendment
Kenyatta's mandate is now hanging in the balance. What will happen if the planned election is postponed? According to Mkangi, the constitution provides for a transitional president — the current president remains in office for the time being. Mkangi believes that another outcome could be that Kenyatta may be forced to resign. "If the new elections are not held in the planned 60 days, the opposition, in particular, will feel cheated out of a credible election and the interim president will have to resign," he said.
According to Jan Cernicky, director of the Konrad-Adenauer-Stiftung in Nairobi, if elections do take place as scheduled, there may be troubled times ahead for the country. "NASA has renounced the candidacy, but they will not be leaving at that. There's a strategy behind this. They may then try to stop elections being held in their strongholds in order to tarnish the election's legitimacy. But, at this stage, this is all just speculation."
The fact is that the Kenyans have had enough of violence and political confrontation, says Cernicky. "That was also the situation back in August. I think people are tired of all this."