Kenyan President Uhuru Kenyatta, newly re-elected earlier this month, has reaffirmed his government's plans to cut MPs' wages by 15 percent. That includes his own salary. The move is part of a new pay structure for public sector workers which Kenya's Salaries and Remuneration Commission says will save taxpayers the equivalent of around 665 million euros ($793 million) per year.
Opposition leader Raila Odinga and his party also support the decision. "We stand for equity and prudent management of public resources," a party statement said. "We cannot therefore promote wastage, avarice and inequities in the Kenyan society."
Read more: Kenyan opposition challenges election result at supreme court
Tax-free wages and luxury living
The 349 members of the Kenyan parliament receive a monthly tax-free salary of around 6,000 euros ($7,200). Their official cars are luxury-class, and along with additional allowances for maintenance, mobile phones and state-funded accommodation, their monthly incomes can quickly reach a value of more than 10,000 euros ($12,000).
According to the Salaries and Remuneration Commission, Kenya spends the equivalent of about 5 billion euros ($6 billion) a year on paying its politicians and around 700,000 civil servants - that's not including benefits such as cars, phones and accommodation. The figure is almost half of the government's total income.
MPs unite - for once
Kenya's Members of Parliament have rarely been so united: they are unanimously rejecting the pay cuts. Back in 2011, Kenyan parliamentarians succeeded in blocking a move to tax their salaries.
The politicians argue that their constituencies are dependent on financial help from the MPs, who regularly use their own income to stop financial emergencies or end strikes in their regions. "When you look at the type of campaigns which we have undergone, they were not cheap," parliamentarian Tom Odege told Kenyan news channel KTN. "The majority of legislators are very broke, that I can confirm," he said.
Anger on Twitter
In a country where the average monthly income is around 100 euros ($120), the politicians' protests are not being met with understanding. Kenyans are fed up with their MPs' extravagant lifestyles. They've been venting their anger on Twitter with the hashtag #MPsPay, accusing politicians of greed and selfishness.
Kenya in second place in Africa
Compared to other African countries, Kenya is in second place when it comes to expense allowances for MPs. Nigerian parliamentarians take the top spot, earning around 6,400 euros ($7,700) a month.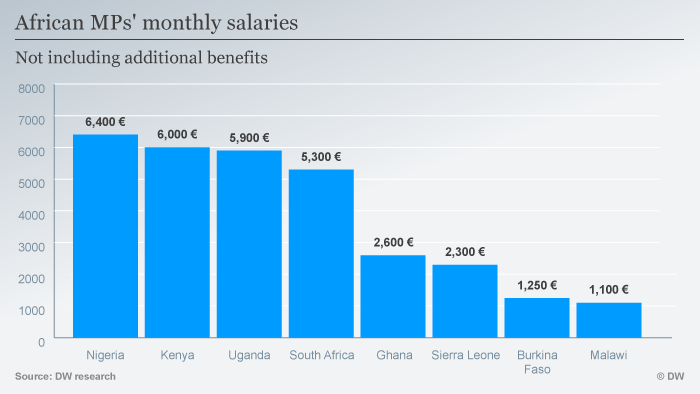 Worldwide, Kenyan MPs' wages are fairly average. US senators are paid 12,000 euros ($14,500) a month; German MPs earn 9,000 euros ($11,000) - but Spanish parliamentarians receive just 1,900 euros ($2,300).
Burkina Faso sets an example
Burkina Faso's MPs set an example two years ago when the majority voted to cut their monthly salaries - at that time around 2,500 euros ($3,000) - by half. The average monthly salary in the desert country is around 150 euros ($180). The parliamentarians agreed that with the money they saved through pay cuts, they would be able to provide better governance.