World Cup leader Richard Freitag, who was Germany's biggest hope for a home soil win, jumped 128.5 and 127 meters, resulting in 275.5 points, but had to settle for second after Olympic and last season's Four Hills champion Kamil Stoch scored better with 279.7 points after jumping 126 and 137 meters.
"I was very happy with the work I did today," said Stoch after securing the win.
The first leg of the 66th Four Hills tournament took place in Oberstdorf, Germany. Around 25,000 people were in attendance in the small Bavarian town under the pouring rain.
Germans well-positioned
Despite not managing to clinch the winning spot, Freitag was pleased.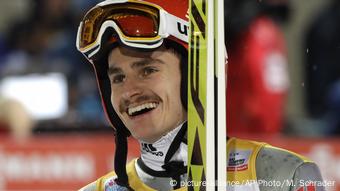 Freitag 'is in a great position overall,' said his coach
"It was unbelievable. If things continue that way, it'll be just fine," he said. Germany's national ski jumping coach Werner Schuster was also pleased with how the Saxony-born jumper fared. "[Freitag] did a very good job. Those jumps were not perfect, but he is in a great position overall," he told German public broadcaster ARD.
Germany's other jumpers had a solid day. Markus Eisenbichler is ninth after the first day, jumping 128.5 and 117.5 meters, with Andreas Wellinger finishing one place behind him after jumping 115 and 123 meters.
Austria's Stefan Kraft was in the lead ahead of Freitag, with a best jump of 132 meters.
However, the Austrian — last season's winner at Obersdorf — only finished fourth after a second jump of 119 meters.
The second leg will take place in Bavaria's Garmisch-Partenkirchen on Sunday. Qualification is scheduled to start at 13:00 GMT.
ftm/cmk (dpa, SID)