Poland's Kamil Stoch produced a jump of 138.5 meters to clinch victory in the Four Hills final in Bischofshofen.
Austria's Michael Hayboeck put the pressure on Stoch with a monster jump of 142 meters, but Stoch produced the jump he needed to secure victory.
On what proved a successful night for the Poles, Piotr Zyla completed the top three after a second jump of 137 meteres.
However, Daniel Andre Tande was left distraught after he misjudged his crucial jump, falling out of contentionn in dramatic style. The winner of the second Four Hills event in Garmisch-Partenkirchen appeared to get caught by the wind and landed awkwardly, finishing in a lowly 26th place.
Germany's Richard Freitag, Stephan Leyhe and Karl Geiger all finished in the top ten, but were unable to challenge the leaders on a competitive final day of jumping in Austria.
Four Hills recap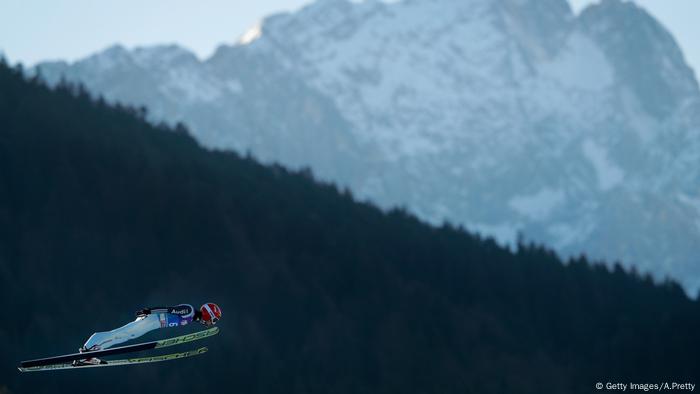 Germany's Markus Eisenbichler performed well in qualification
Qualifying: Day 1
Austrian ski jumper Stefan Kraft's 308 point haul was enough for him to win the opening event of the Four Hills Tournament in Oberstdorf on Friday. Sixth-placed Markus Eisenbichler was the highest German finisher.
Qualifying: Day 2
Stefan Kraft qualified in first place in Innsbruck on Tuesday with a jump of 134.5 meters.
Qualifying: Day 3
Daniel Andre Tande took the overall lead in the Four Hills Tournament after winning the third event. This came after the the day's ski jumping had to be cut short due to wind and the onset of darkness.
Qualifying: Day 4
The fourth and final Four Hills Tournament qualifying event arrived at Bischofshofen on Thursday. There was a surprise victory for 21-year-old Andreas Wellinger on a good night for Germany's jumpers.
Final: Day 5
Poland's Kamil Stoch wins the Four Hills final in Austria with a jump of 138.5 meters. But there was disappointment for Daniel Andre Tande, who misjudged his crucial jump.
mds