Journalists were barred Sunday from a publicly advertised event in Shanghai aimed at luring Chinese investors into a US real estate project tied to the family of President Donald Trump's son-in-law, in exchange for immigrant visas.
The project - a two-tower luxury apartment complex known as One Journal Square in Jersey City, New Jersey, just 3 miles (5 km) from Manhattan - is being pursued by the KABR Group and the Kushner Companies, which until recently was led by senior White House adviser Jared Kushner, the husband of Trump's oldest daughter, Ivanka.
The developers are trying to raise $150 million (135 million euros), or 15 percent of funding for the project. To sweeten the deal the developers are offering investors EB-5 immigrant visas in exchange, according to marketing material by the event's organizer - the Qiaowai immigration agency.
The controversial EB-5 visa program effectively allows wealthy foreigners to buy US immigration visas for themselves and their families by investing at least $500,000 in certain development projects.
"Sorry, this is a private event," said a man stopping journalists from entering a function room on Sunday afternoon at the Four Seasons Hotel in Shanghai.
Guests at the event said Kushner's sister, Nicole Kushner Meyer, spoke for about 10 minutes, including about her family's modest beginnings.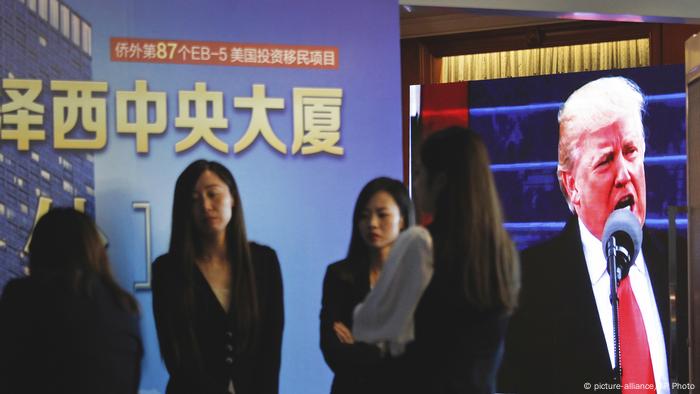 A Kushner Companies' promotional seminar used video footage of President Trump to entice Chinese investors
Trump connection is bait
Meyer attended a similar event in Beijing on Saturday and told the audience of about 100 people the project "means a lot to me and my entire family."
One potential investor, Sophie Xing, said the fact that the project was a Kushner Companies investment and that Trump's son-in-law's sister would be showing up in Shanghai a "very important" factor in her decision to attend Sunday's event.
"Actually I really don't know how close they are but I felt that this was a pretty good project," she said.
Qiaowai sent out a promotional text message noting Meyer's relationship to Trump and called her the event's "heavyweight honored guest."
Qiaowei representatives at the event declined to answer questions from journalists, and calls to its listed phone number went unanswered.
Likewise, Meyer did not respond when asked if she was concerned about possible conflicts of interest facing her brother.
A spokeswoman for Kushner Companies also declined to comment about the Beijing event for a story on Saturday. Journalists from both the "New York Times" and "Washington Post" were removed from the Beijing event, the newspapers reported.
In addition to Beijing and Shanghai, the promotional program for One Journal Square was scheduled to hit the Chinese cities of Shenzhen, Guangzhou and Wuhan, according to Qiaowai's online marketing materials.
It calls the Kushner family a "famous real estate clan", and touts EB-5 immigration as "peace of mind."
bik/tj (Reuters, AP, AFP)