The innovation headquarters will have sweeping authority to streamline bureaucracy on the federal level, The Washington Post and The Associated Press news agency reported.
According to the Post, the White House Office of American Innovation should act as a sort of SWAT team, tasking former business people with bringing new ideas to governance. Trump would unveil the new White House office on Monday and appoint his son-in-law Jared Kushner as the leader, a senior administration official told AP. The office will report directly to the president.
"The government should be run like a great American company. Our hope is that we can achieve successes and efficiencies for our customers, who are the citizens," Kushner told The Washington Post.
The White House reportedly coordinated the effort with top Silicon Valley CEOs, such as Apple's Tim Cooke, Microsoft founder Bill Gates and Tesla's Elon Musk.
'Ahead of schedule, under budget'
The 36-year-old Kushner is the husband of Ivanka Trump and one of President Trump's closest aides. Ivanka, who also serves as an unofficial adviser to the president, is expected to contribute to the new initiative.
In theory, federal anti-nepotism laws should keep relatives of top office holders from government positions. However, the US Justice Department recently said the president's "special hiring authority" allowed him to appoint Kushner as an adviser.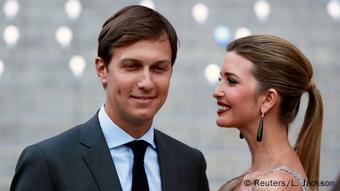 Kushner married Ivanka in 2009
By using ideas from the private sector, US officials hope to fulfill some of Trump's key campaign promises, such as overhauling the troubled Department of Veterans Affairs and tackling drug addiction. The timing of the announcement is also important, as the Trump administration is still reeling from its heavy defeat on health care.
"I promised the American people I would produce results, and apply my 'ahead of schedule, under budget' mentality to the government," Trump was quoted as saying by The Washington Post.
dj/rc (AP, AFP)