DW: Jean-Marc Bosman, 20 years after the ruling that changed football forever, how are you?
Jean-Marc Bosman: Very well, thank-you, everything is going well, my life has a normal routine. I had a difficult period before, but not now. Twenty years after the Bosman ruling - I have done a lot of interviews over the past week, but at a certain point I learned to put the Bosman ruling to one side, not to dwell on it the whole time. Now I'm doing well, I see my children regularly, I have a young son, Samuel, who is four going on five and Martin, who is six, about to turn seven, and this brings me a lot of joy and gives me strength.
Has the Bosman ruling had a positive or a negative effect on football?
On December 15th, 1995, I won the case and that benefited all of the players. But, when Mario Monti was the European Competition Commissioner (2001), the transfer rules were changed to benefit the clubs. Now clubs are earning a lot of money through things like the Champions League, and they don't even have to win it to do so. There are about 20 to 25 clubs in Europe earning huge amounts of money this way, and they are getting richer. The Bosman ruling was meant to create redistribution, but it didn't work out that way. I don't think it is right for very young players to be sold for 30 or 40 million euros ($33 million, $44 million) before they have even really proven themselves.
As you say, since the Bosman ruling, not only have players been able to move freely at the end of their contracts, but transfer fees and players' salaries have skyrocketed. So what about the players, the people who benefitted from your court battle? Have any reached out to you?
When I won the final appeal in 1998 the Dutch national team came over to visit me at my home - players like Ronald de Boer and Frank de Boer - they were all at the house, all the national team players, and then I went back to Rotterdam to watch the Dutch - Belgian game. All the Dutch national team players then gave me their match bonuses, and asked the Belgians to do the same. However, since I had won against the Belgian Football Association all the players of the Belgian FA - the national team players - didn't talk to me. And the FA asked the players not to give me their bonuses because that would de-stabilize the situation. The Belgians even asked the Dutch not to give me their bonuses, but they did. It was one of those rare gestures that I received from great players...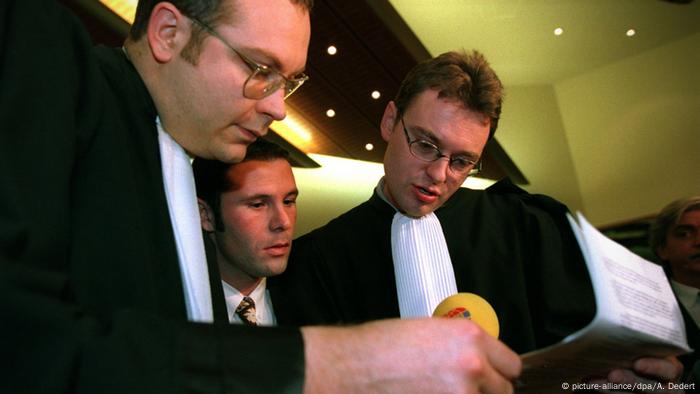 The court case that Jean-Marc Bosman (center) won in 1995 changed football forever
Do you feel you've been given the credit you deserve for your battle against your club and the system?
This affected all of the world. I devoted myself to this during those years, and young players basically just accepted what happened. They're playing for English clubs and receiving 300 thousand euros per week while I - Jean-Marc Bosman - am getting zilch per month. The disproportion is huge considering the work that I put in during those years, but then there were those great players who realized what I had done. Young players don't know because they are too young - I mean, they're young enough to be my children - but they do remember that there was someone who was once a professional player who fought for them.

Given what you know now, that it would effectively spell the end of your career as a footballer and that you would not profit from it personally, would you do it again?
Yes! I have to tell you yes, because I believe I brought a lot of happiness to a lot of people. It was a ruling that was exceptional and which gave tens of thousands of people work and I was able to do something positive. You know that in 20 or 30 years, when I am no longer here, my record will remain clean, while those of [UEFA President Michel] Platini and [FIFA President Sepp] Blatter will have been strongly tarnished. So I am proud of this decision, this wonderful decision, and the help that the World Players Union gave me, and I think that if I had to do it all over again - I would. It wasn't normal in modern times to treat players like merchandise.
The Bosman ruling, handed down by the European Court of Justice on December 15, 1995, gave football players who were out of contract the freedom to join new clubs without their old team's permission. The case started in 1990, when Bosman, then 25, was out of contract with his club, RFC Liege, and wanted to join the French side Dunkerque. Dunkerque refused to meet Liege's asking price and Bosman was unable to switch clubs. Bosman took his case to court, arguing that the rules set out by European football's governing body, UEFA, which prevented him from leaving his club even though his contract had expired, amounted to a breach of his rights.
After the ruling, Bosman, now 51, fell into depression and alcoholism and even received a jail sentence in 2013 for assaulting his former girlfriend and her daughter. He is reported to be keeping his head above water through small donations, and FIFPRO is said to be ready to come to his assistance - but he says he has no income of his own.
The interview was conducted by Chuck Penfold.