Stung by reports that trillions of yen that were earmarked to assist the people of Tohoku to rebuild their lives and communities in the aftermath of the most destructive natural disaster to strike this country in living memory, the Japanese government has announced that it plans to ask local authorities and related organizations to stop spending reconstruction funds outside the affected region.
But people who survived the disaster and are attempting to rebuild their lives and businesses are furious that it took a report in a national newspaper for the government to act.
The daily Asahi Shimbun reported recently that of the Y200 billion (1.525 billion euros) put into an emergency employment budget designed to help people in devastated communities find work or rebuild their firms, more than 823.29 million euros had been spent in 38 prefectures other than the nine that felt the full force of the tragedy.
Tohoku residents miss out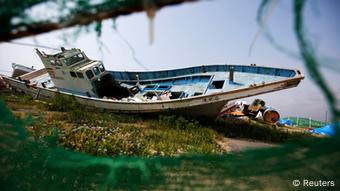 Fishermen in a number of areas are not allowed to fish due to contamination
To add insult to injury, 65,000 people found employment with the assistance of the funds, but only 2,000 of them came from Tohoku.
"It's wrong," said Yoko Wakamatsu, the head of the Minamisoma International Association, told DW. "I'm angry and I think the people of this town will feel the same way when more of them hear about this."
Minamisoma is a coastal town in Fukushima Prefecture that felt the full force of the magnitude-9 earthquake in March 2011 and the devastating tsunami that it triggered. The damage wrought by the natural disasters was compounded by the destruction of the Fukushima Daiichi nuclear plant a few dozen kilometers along the coast.
Even today, 27 months after the crippled plant released radioactive particles into the atmosphere, local fishermen are not able to work because of elevated levels of contaminants in the local sea life.
"People around here have begun to find work again, but not all of them by any means," Wakamatsu said. "The fishing industry has been decimated and we still have about 10,000 people who lost their homes living in temporary housing units."
Elsewhere, others are benefitting.
Paid to count turtles
The Asahi determined that the prefectural government of Kagoshima, on the most southerly main Japanese island of Kyushu, used 22,957 euros of the funds to employ 10 people to protect sea turtles on the beaches of Yakushima.
Yamaguchi Prefecture spent 106,994 euros on the salaries of 20 people taking part in a campaign to promote the region that was headed by a green mascot called Choruru. None of the people hired were from Tohoku.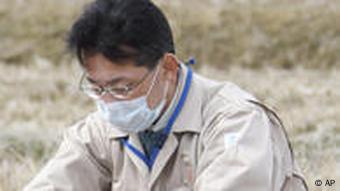 Some areas are still uninhabitable
Tottori Prefecture lavished 305,696 euros on an all-girl band called Bird Princess to support an international manga exhibition last year.
"I wish I could say that I was surprised at this, but really, it's the same old story," Jamie El-Banna, the British founder of the NPO It's Not Just Mud, told DW. "It's cases of people abusing their positions and helping their friends and allies with money that could be put to a far better use in Tohoku.
"It's ridiculous," added El-Banna, who has been living in patched-up houses in Ishinomaki and leading volunteer teams rebuilding the region for two years.
"Employment for local people is one area where they really do need help now," he said. "Most of the debris has been cleared away and reconstruction work is getting under way, but there are too few job opportunities for those who have chosen to stay.
"They can get jobs driving the trucks that are hauling the debris away, but that's not a long-term position that will feed them and their families into the future," he said. "And I see plenty of unemployed people hanging around in the temporary housing units, with nothing to do all day long."
People want to work
"And I know that those people would like nothing more than to be able to work and rebuild their communities," El-Banna said.
The latest revelations about how government funds are spent come just months after it was learned that of the 145.2 billion euros allocated by the government for public works projects in the affected communities, some 15.29 billion euros were spent in other parts of the country with no positive impact in Tohoku.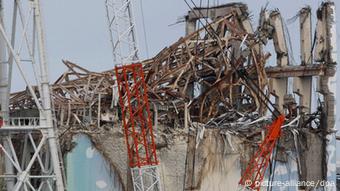 The tsunami caused a power outage which led to one of the worst nuclear disasters in history
An investigation by NHK, Japan's national broadcaster, revealed that substantial portions of the funds that were raised by tax increases and government spending cuts between 2011 and 2015 were going to promote the whaling industry, to train prison inmates and even to fund nuclear research.
The ministry that overseas Japan's "research whaling" - condemned internationally as thinly disguised commercial whaling - defended the allocation of over 17 million euros on the grounds that it would help the economies of coastal communities recover from the disaster.
Similarly, the Ministry of Justice said the near 214,000 euros that it received would go towards vocational training for inmates in prisons in two prefectures to ensure they did not re-offend. Neither of the regions - Hokkaido and Saitama - are located in the disaster zone.
In Okinawa, the most southerly of Japan's prefectures, a further 3.82 million euros is being spent on a sea wall that the contractor admitted to NHK was "not really an essential project."