Japan was struggling to clean up after being hit by what experts have called the biggest typhoon to strike the country in 25 years.
Winds up to 216 kilometers (135 miles) per hour tore off roofs, overturned trucks on bridges and swept a 2,500-ton tanker into a bridge leading to the airport, the region's main international gateway and a national transport hub.
Kansai International Airport — one of the country's busiest — was cut off when a tanker hit its sole access road. Built on an artificial island, damage to the bridge left the airport cut off, stranding 3,000 travelers overnight.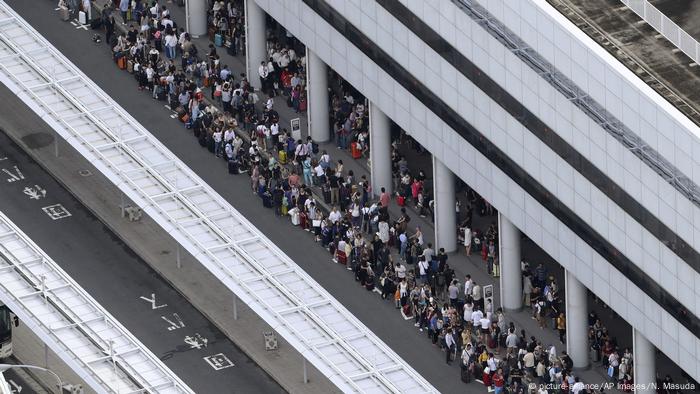 Passengers waiting to be evacuated from Kansai International Airport
On Wednesday, boats were ferrying stranded passengers from the airport after thousands of people were forced to spend the night in the partially flooded facility.
There was no indication when Kansai International Airport, which runs over 400 flights a day, might reopen.
"We had a blackout so there was no air conditioning. It was hot," a woman told public broadcaster NHK after being ferried to Kobe. "I'd never expected this amount of damage from a typhoon."
In all, at least 10 people were killed, and hundreds more injured by Typhoon Jebi as it smashed through the major manufacturing area around Osaka, wrecking infrastructure and destroying homes.
Yoshihide Suga, a government spokesman, said the death toll in the storm stood at 10, with 300 people injured.
Prime Minister Shinzo Abe, tweeting on his official account, said the government was working to get the airport back online.
Infrastructure damage
Jebi appears to have caused damage to the region's infrastructure on an unusual scale.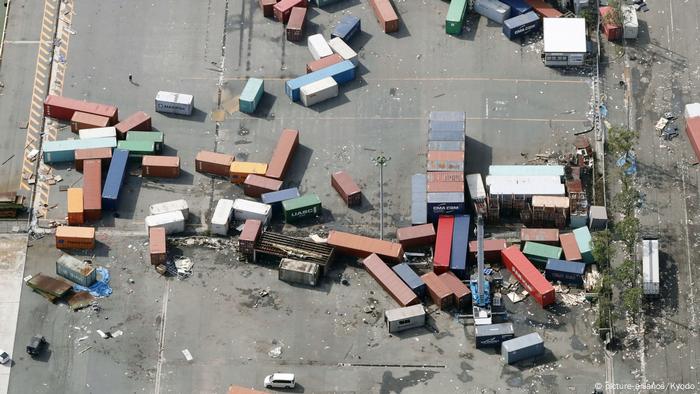 The winds were so powerful that containers were thrown around like matchboxes
As Jebi approached, more than 1.2 million people in the Kansai area had been advised to leave their homes.
Overall, at least 2.4 million households had lost power in the storm, with service restored to only half by Wednesday morning.
"We continue to make utmost efforts to respond to disaster damage and restore infrastructure," Suga said.
Japan is regularly hit by powerful typhoons in the summer and autumn, many of which cause flooding and landslides in rural areas.
In the historical city of Kyoto — home to ancient temples and shrines — it brought down part of the ceiling of the main railway station, while in nearby Osaka, the high winds peeled scaffolding from a multistory building.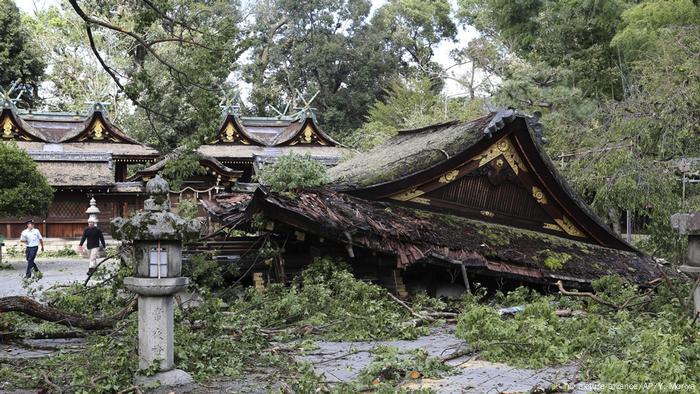 Temples felt the power of Typhoon Jebi
Businesses, factories and schools in Kansai were closed while the storm roared across the country. Hundreds of flights were canceled, as well as ferry services and some bullet trains.
av/sms (AFP, AP)
Each evening at 1830 UTC, DW's editors send out a selection of the day's hard news and quality feature journalism. You can sign up to receive it directly here.