It's no secret that emotions can boil over from time to time in football, but what happened on Sunday in PAOK's stadium in Thessaloniki was far beyond the realm of the usual refereeing controversy.
In the final minute of PAOK's game against AEK of Athens, Fernando Varela scored to give PAOK the lead. Referee Giorgos Kominis called the goal back for offside - and quickly the situation spun out of control.
Enraged, PAOK's owner and president, Ivan Savvidis, took to the field surrounded by four of his bodyguards. Clearly visible on the billionaire's belt was a holster with a gun. According to the visitors, AEK, Savvidis threatened to kill both them and the referee. Two hours later, Kominis revised his decision, but by then it was too late. PAOK fans rioted in the streets late into the night, throwing stones at the visiting team's bus.
Not afraid of repercussions
Police are now looking for Savvidis, who made off after the incident. As police in Athens confirmed, he is not accused of unlawful possession of a gun in public or of threatening somebody with murder. Savvidis, a Pontic Greek who was born in the former Soviet Union, is wanted for a minor crime, namely entering the field of play during the game. For the same reason, there is also a warrant out for the four bodyguards who accompanied Savvidis out onto the pitch. However, under Greek law, if the police don't find them within 24 hours, he and his entourage won't have to worry about being arrested.
"It will probably wind up being resolved with fines for PAOK and Savvidis," journalist Tasos Alevras predicted.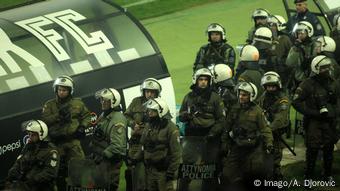 A huge police presence was necessary during the game
Giorgos Vasiliadis, Greece's deputy minister of culture and sport, reacted by suspending play in Greece's top division - a decision that Alevras regards as excessive.
"Everything will go the usual way," he said.
Alevras is far from happy with pro football in Greece. The quality is poor, sport is no longer the focus, it's more on the power struggle between the owners and presidents of the four biggest teams in the country. It's all about rich businessmen seeking to use the popularity of the sport to gain personal advantage.
Football vs. personal gain
In his somewhat ironically named documentary "What Politica - A non-political football story" Alevras looks at his favorite club, Olympiakos and their owner Evangelos Marinakis, a billionaire shipowner from Piraeus. Along with the football club, Marinakis owns influential newspapers, radio stations and 22 percent of the TV channel Mega Channel. And he's under suspicion of having manipulated games through bribes.
"Savvidis is playing the same game in Thessaloniki as Marinakis in Piraeus. Half of the city belongs to him now," Alevras said about Savvidis.
In fact, Savvidis now owns the luxury hotel Makedonia Palace, part of the port and the tobacco factory SEKAP. On top of that, he owns 19 percent of Mega Channel, as well as two influential newspapers. When he bought PAOK in 2012, he paid off all the club's debts.
A lot of fans are grateful to him for that and, as a result, many celebrated his "cowboy performance" - as the Greek media dubbed Savvidis' decision to take to the field displaying a gun. But many do not support violence and corruption.
"Most PAOK fans and those from other clubs want the competition to be in the stadium and not in the court room or on the street," one PAOK fan said.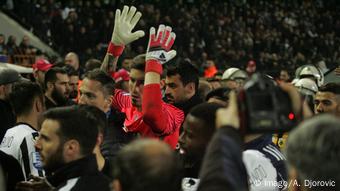 Athens' keeper Vasilios Barkas tries to escape through the crowd
"I love football and its culture. But what happened yesterday has nothing to do with what I care about in sport. It symbolizes just how dirty this business has become," said another fan, who had a clear message for PAOK.
"The people in charge at the club must condemn Savvidis' for his actions. He has no place on the field of play, let alone with a weapon."
However, the club has stayed silent. Only press officer Kyriakos S. Kyriakos delivered a statement on Facebook in an attempt to play down the incident. He accused the media of exploiting the topic.
"No one was threatened by Savvidis and no one was afraid of him. And no one is blaming him today," Kyriakos said.
No hope for improvement
Tasos Alveras doesn't believe things are about to change any time soon. Savvidis, a good friend of former Prime Minister Antonis Samaras, is just too powerful. All of them, he said, are well connected in Athens and the football clubs act as a protective shield.
"If Savvidis, as president of PAOK is accused (of wrongdoing), then the club also stands accused. That gives him a certain degree of immunity," explained Alevras.
That's how Greece's billionaire football tycoons sway themselves into the popular slipstream of their clubs. Furthermore, many fans have no interest in political clashes. However, the passion for football serves to cloud the fact that what happens on the pitch is no longer determined by the talent of players kicking a ball.