Italian Prime Minister-designate Paolo Gentiloni on Monday announced his cabinet for the new government, retaining several lawmakers from former premier Matteo Renzi's outgoing government.
As premier, Gentiloni will head a government led by members of the center-left Democratic Party (PD), including Justice Minister Andrea Orlando and Defense Minister Roberta Pinotti, who will retain their positions.
Largely seen as an ally of Renzi, Gentiloni appointed Angelino Alfano, who heads a small center-right party and served as interior minister in Renzi's cabinet, as foreign minister. Gentiloni served as foreign minister in the former government.
Pier Carlo Padoan, who has attempted to defuse a crisis in Italy's banking sector, will retain his position as finance minister.
Padoan has overseen efforts to save Italy's third largest bank Monte dei Paschi di Siena, the world's oldest surviving bank, from collapsing.
The bank's chief executive said they will try to recapitalize by soliciting private funds before an end-of-the-year deadline. However, the European Central Bank (ECB) last week rejected a deadline extension for January 20, 2017.
Gentiloni said the new government would focus on revamping Italy's electoral laws, which have been left in shambles after a crushing defeat of December's constitutional referendum. The appointment of Italy's two chambers is currently delegated under separate electoral laws.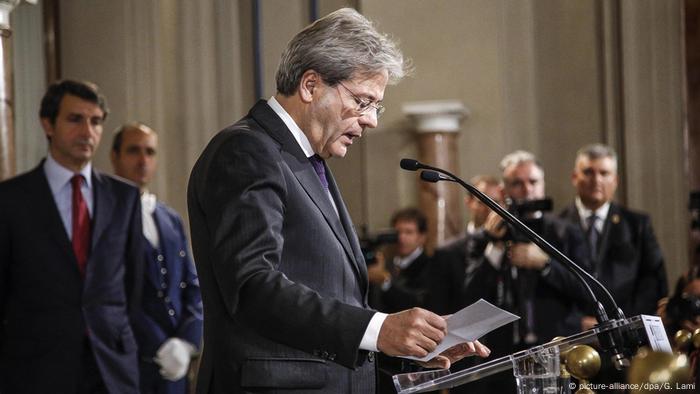 Gentiloni served as foreign minister in outgoing Prime Minister Matteo Renzi's government
'Flash mob for democracy'
Ahead of the announcement, leftist opposition party Five Star Movement (M5S) said it did not join consultations for Gentiloni's government, describing it as a "charade."
"They can continue with their consultations, their sad and worn out rituals … We will appear in a public square and we will hold a parliamentary session there: it is going to be a flash mob for democracy," said M5S founder Beppe Grillo.
M5S and regionalist Northern League have criticized Gentiloni for being little more than Renzi's puppet.
Opposition parties have called for early elections, which Renzi said on Monday could take place by June of next year.
ls/jm (AP, AFP, dpa)