Italy has asked the European Union for support in its bid to impose a global moratorium on the death penalty in the wake of Saddam Hussein's execution.
"I believe this must constitute one of the top commitments of our international efforts because it is urgent to have an initiative to put an end to the barbarianism of the death penalty," Italian Foreign Minister Massimo D'Alema told news agency ANSA.
In a statement released earlier this week, the Italian Foreign Ministry said the 27-member bloc should discuss a common strategy designed to increase international support for the moratorium at an informal meeting of EU political directorates set for Jan 11-12 in Dresden, Germany.
"The recent cases of capital punishments and executions present us with the need to draw the attention of the international community to a renewed initiative designed to promote a moratorium on the death penalty, in view of its complete abolition," the statement said.
Italy, a largely Catholic country, was shocked by televised images of the former Iraqi dictator hanging. It is now leading diplomatic efforts to bring about a global ban on capital punishment.
Italy has just become a non-permanent member of the United Nations Security Council. Its ambassador in New York, Marcello Spatafora, has asked officials to put the moratorium on the agenda of the UN General Assembly.
Italian politician on hunger strike is hospitalized
Meanwhile, the head of Italy's Radical Party, Marco Pannella, agreed to be hospitalized on Thursday as he entered the second week of his hunger strike to push for a worldwide moratorium on capital punishment.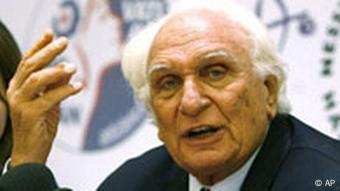 The 76-year-old Pannella has carried out several hunger strikes in the past
On Wednesday, he had begun accepting water. But a medical bulletin posted on the Radical Party's Web site Thursday stated that doctors were deeply concerned by Pannella's condition and urged hospitalization.
Doctors said Pannella was dehydrated and faced "potentially irreversible" damage to his kidneys and cardio-vascular system. He has staged hunger strikes in support of a number of causes over his political career.
Pannella was a leading advocate of legalized abortion and divorce in the 1970s and 1980s.
Condemnation is not enough
Rome's initiative will involve 85 UN member states that signed a non-binding declaration in December against the death penalty, Prime Minister Romano Prodi said.
"The government is not content with condemning the death penalty, it will act," Prodi said.
Capital punishment is outlawed in all European Union countries, but it is widely practiced in two of the UN Security Council's five permanent members -- China and the United States.
Iraq deflects Italian criticism
However, Iraq has rebuffed Italian criticism, noting that the Italians themselves had executed former fascist leader Benito Mussolini during World War II. The dictator was executed by partisans and strung up in a square in Milan in 1945.
"They have no right interfering with the affairs of another country," Iraqi government official Yaseen Majeed told Italian newspaper La Repubblica. "Mussolini's trial only lasted one minute."