"We respect the verdict, but the German government is known to be opposed in principle to the death penalty," Merkel said in Berlin on Saturday after Iraqi officials executed Saddam in Baghdad by hanging earlier that day.
The chancellor added that her thoughts were with the many innocent victims of Saddam's regime.
"I hope the Iraqi people will be able to go their own way in peace and without violence," she said.
Saddam had been sentenced to death for ordering the murder of 148 men and boys in the Shiite village of Dujail in 1982.
Opposition politicians also criticized the execution. Free Democrats foreign policy spokesman Wolfgang Gerhard meanwhile called the hanging of Saddam "unacceptable," and said a life sentence would have set a milestone.
Left Party spokesman Gregor Gysi said the execution "did not mark the start of greater democracy in Iraq."
Greens spokesman Fritz Kuhn said Iraqis needed to draw a line under the "chain of death and revenge.
"Saturday's execution hides the danger that supporters of Saddam Hussein will in future regard the ex-dictator as a martyr," Kuhn said.
Europe condemns death penalty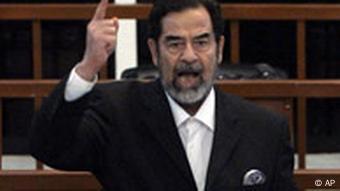 Saddam Hussein remained defiant during his trial in past months
Others in Europe also commented on the execution.
"The EU condemns the crimes committed by Saddam and also the death penalty," Cristina Gallach, a spokeswoman for Javier Solana, the EU high representative for foreign affairs, told news agency AFP.
France, a staunch opponent of the death penalty as well as the US-led invasion of Iraq in 2003, called on Iraqis to work towards reconciliation and national unity after the execution.

"France calls upon all Iraqis to look towards the future and work towards reconciliation and national unity," the French foreign ministry said in a statement. "Now more than ever, the objective should be a return to full sovereignty and stability in Iraq.

Vatican: "tragic news"
The Vatican called the execution of former Iraqi dictator Saddam Hussein tragic, saying it could feed a spirit of vengeance.

"There is a risk that it feeds the spirit of vengeance and plants the seeds for fresh violence," Vatican spokesman Frederico Lombardi said. The hanging of Saddam Hussein, early on Saturday, was "tragic news", he said on Vatican Radio.

"This is a reason for sadness, even if this is about a person who is guilty of serious crimes. The position of the Catholic church, which is against the death penalty whatever the circumstances, needs to be repeated again," he said. "Putting a guilty person to death is not the way to rebuild justice and reconcile society," Lombardi added.
Britain: Saddam 'held to account'
Britain on Saturday said Saddam Hussein had been "held to account" but reiterated its opposition to the use of the death penalty.

"I welcome the fact that Saddam Hussein has been tried by an Iraqi court for at least some of the appalling crimes he committed against the Iraqi people," said Foreign Secretary Margaret Beckett. "He has now been held to account."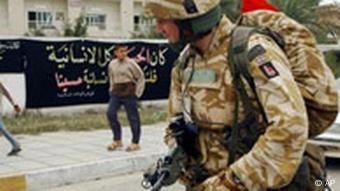 Britain still has over 7,000 soldiers in Iraq
Britain was the US' main ally during the 2003 invasion of Iraq and still has some 7,200 troops in the country.

Saddam's execution has put Blair's government in a difficult position however because of its opposition to the death penalty.

"The British government does not support the use of the death penalty, in Iraq or anywhere else," Beckett said. "We advocate an end to the death penalty worldwide, regardless of the individual or the crime.

"We have made our position very clear to the Iraqi authorities, but we respect their decision as that of a sovereign nation," she added. "Iraq continues to face huge challenges. But now it has a democratically-elected government which represents all communities and is committed to fostering reconciliation."
Bush: "An important milestone"
US President George W. Bush meanwhile hailed Saddam Hussein's execution as "an important milestone" on the road to building an Iraqi democracy but warned it would not end deadly violence there.

"Saddam Hussein's execution comes at the end of a difficult year for the Iraqi people and for our troops," Bush said in a statement released as he prepared to usher in 2007 at his Texas ranch.
Human rights group condemns hanging
However US-based rights group Human Rights Watch (HRW) condemned the hanging, saying history would judge Saddam's trial and execution "harshly."
"Saddam Hussein was responsible for horrific, widespread human rights violations, but those acts, however brutal, cannot justify his execution, a cruel and inhuman punishment," said HRW's international justice program director, Richard Dicker.

"The test of a government's commitment to human rights is measured by the way it treats its worst offenders," he said. "History will judge the deeply flawed Dujail trial and this execution harshly."