Paris Saint-Germain's Qatari chairmann Nasser Al-Khelaifi, who is also the chief executive of Qatari-owned BeIn Media Group, put the "Villa Bianca" in Porto Cervo at the disposal of disgraced FIFA official Jerome Valcke as a "means of corruption," Italian police said on Friday.
The seizure of the villa, which is owned by an international real estate agency, took place in the presence of a "representative of the Swiss government" and police said that several individuals "linked to various titles to the company that owns the villa" have also been questioned.
The raid took place a day after Swiss federal prosecutors announced they are investigating suspected bribes offered to former FIFA secretary general Valcke to award the broadcast rights for the 2026 and 2030 World Cups to Al-Khelaifi's BeIN Media Group.
"It is suspected that Jerome Valcke accepted undue advantages from a businessman in the sports rights sector in connection with the award of media rights for certain countries at the FIFA World Cups in 2018, 2022, 2026 and 2030 and from Nasser Al-Khelaifi in connection with the award of media rights for certain countries at the FIFA World Cups in 2026 and 2030," Switzerland's Office of the Attorney General (OAG) said on Thursday.
The investigation was opened in March and is separate from a probe Switzerland launched against Valcke in March 2016 over alleged criminal mismanagement during his tenure as deputy to FIFA's disgraced former president Sepp Blatter. Valcke denied any wrongdoing in this case.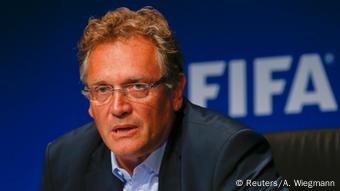 Jerome Valcke is serving a 10 year ban from football
Valcke, who worked for FIFA between 2007 and 2015, is currently serving a 10-year ban from football – issued by the FIFA Appeal Committee in June 2016 – after being embroiled in the corruption scandal that hit football's governing body in 2015. He filed an appeal to the ban with the Court of Arbitration of Sport (CAS) in February of this year.
Al-Khelaifi, 43, has been the chairman of Qatar Sports Investiments (QSI) since June 2011, around the same time the investment company acquired Paris Saint-Germain. He became the chairman and chief executive officer of the French club, who broke the world transfer record to sign Neymar earlier this year, four months later. QSI also sponsors FC Barcelona.
Al-Khelaifi is also the chairman and CEO of BeIN Media Group which was spun off from Al-Jazeera Media Network, a Qatar-based media company, in December 2013.
The investigation of Al-Khelaifi is the first direct link to Qatar, the host country for the 2022 World Cup, in investigations led by the United States, France and Switzerland into football corruption.
dv/mp (AP, dpa)