Cappellacci
for 4 people
For the pasta:
250g flour
100g wheat semolina
250g egg yolk
1 egg white
For the filling:
100g fresh fava beans
200g fresh peas
2 small artichokes
2 spring onions
50g olive oil
salt and pepper
2 eggs
50g pecorino
50g parmesan
black pepper
8 slices of pancetta
Mix together the pasta ingredients and knead.
Wash and julienne the artichokes and spring onions. Fry for 4-5 minutes in olive oil, and season with salt and pepper.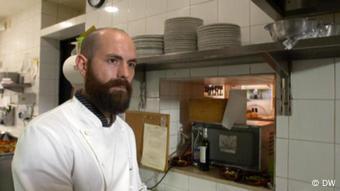 Shuck the peas. Blanch them in a bit of broth seasoned with salt and pepper, and puree into a cream.
Shell the fava beans and blanch them to remove their waxy outer coating. Once tender, cover them with a bit of olive oil and set aside.
Combine two eggs with the pecorino, parmesan and black pepper into a sauce.

Bake the pancetta for 10 minutes at 170 degrees Celcius.
Cut the pasta dough into circles about 10 centimeters in diameter. Add a teaspoon of filling, fold the pasta together in the form of a half-moon and seal the edges.
Boil the cappellacci for 2-3 minutes in salt water and then fry on both sides until crispy.
Distribute the cream with the peas onto the plates, place the cappellacci on top of it, decorate with the fava beans and cover in cheese sauce. Top with pancetta and season with pepper.