Business has never been sweeter for those in the artisan gelato sector, which has continued to flourish, in spite of the recent credit crunch.
And one country, in particular, has benefited from the boom - Italy, the world's leading supplier of equipment and ingredients, with annual sales of 3.5 billion euros ($4.8 billion).
Artisanal gelato has always enjoyed success in its home market. Every year, Italians consume some 360,000 tons – almost six kilos per person - thanks largely to afforadable prices.
Healthier, tastier, more natural
While in its native country "gelato" is simply the Italian word for ice cream, outside the country it denotes a product that is freshly made every day and has a creamier texture and much lower fat content than its industrially produced counterpart. Its popularity is now soaring around the world as many consumers view it as a healthier, tastier, more natural alternative.
Sigep, the annual international artisan gelato expo held in the northern Italian seaside town of Rimini, reported a record attendance of more than 100,000 visitors this year. Not only that, almost a fifth of the visitors attending the five-day event were not Italian.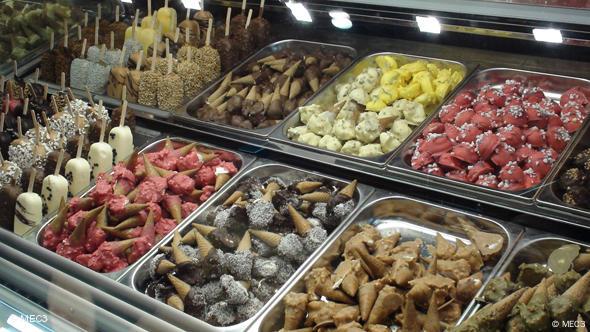 Artisan gelato is a freshly made product with a creamy texture
Artisan gelaterias are springing up all over the world, according to Sergio Dondoli, an award-winning ice cream maker and vice-president of the Comitato Gelatieri gelato makers' association. Dondoli, who also has a consulting business, is in big demand.
While foreign interest used to come mainly from Germany, today requests for his services come from all over the world. "Africa, South America, China… everywhere," Dondoli told Deutsche Welle. "It's incredible. It's good for the gelato business."
And while gelaterias outside Italy used to be run by Italian immigrants, the trend is clearly toward more non-Italians opening their own gelato businesses.
Sweet palate
The change is also reflected in the number of foreigners interested in learning the tricks of the trade directly from Italian professionals. The Carpigiani Group, a leading manufacturer of gelato-making machinery that runs the 'Gelato University' at its headquarters in Bologna, has experienced a surge in applications due mostly to foreign students whose numbers are up 50 percent.
"There is a direct relationship between the economic crisis of a couple of years ago and this huge increase in people subscribing to courses," said CEO Andrea Cocchi. "When you ask them why they are here, they say 'I lost my job so I want a job that no-one can fire me from.'"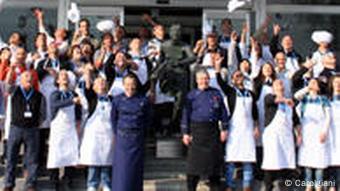 Foreign student attendence is up 50 percent at the Gelato University
Many aspiring professionals come from China, where interest in gelato is growing. Although Italians have a much sweeter palate, they show how to make the basic product, which the Chinese can then adapt to their own recipes – from lychee and green tea to adzuki red bean flavor.
"We want to expand in foreign markets, especially in Asia, because Asia is the future," said Gian Maria Emendatori, director of Mec3, a leading Italian supplier of gelato ingredients and an operator of franchise gelaterias worldwide."They run faster. They want more things. We have become the old continent here."
Asia is a particularly important market for the Italian gelato industry, Emendatori told Deutsche Welle, because the region "is hungry for foods, for new products, especially desserts" and because it has "a huge culture for savoury food but not dessert."
Chinese origins
As well as supplying restaurants and hotels, more than 60 Mec3 franchise gelaterias will open in China this year, following the opening of an office in Shanghai. "China's not the fastest growing market for gelato," Emendatori said, "but the fastest growing in terms of increase because five years ago there was nothing."
Carpigiani also sees huge potential in China. Like Mec3, the company has opened a Shanghai office where today it offers courses to Chinese entrepreneurs who want to open their own gelaterias. "We try to let them understand what gelato is, what type of business they can have, and slowly – step by step – we are seeing some customers," Cocchi said. "It is still a small market but with a huge potential."
Ironically, ice cream is believed to have orginated in ancient China, where it was served its emperors, and was later introduced to Italy by Marco Polo on return from a visit to China.
Author: Dany Mitzman, Rimini
Editor: John Blau