Russia's space agency said late Wednesday that a Soyuz-U rocket, carrying an unmanned cargo spacecraft bound for the International Space Station (ISS), crashed in Siberia after experiencing a problem in the third stage of its liftoff process.
"Attention, we have a contingency situation on board the rocket module. The mission is over," a flight control official announced just over five minutes after liftoff. Images of the failed launch were later broadcast on Russian state television.
A local official in the remote Choya district in Siberia, near the borders with Mongolia and China, said nobody was hurt as the Progress M 12-M spacecraft hit the ground.
"The explosion was so powerful that it shattered windows nearly 100 kilometers (62 miles) away," Alexander Borisov, head of the Choya district, told Russia's RIA Novosti news agency. "I have lived here for 40 years and we have grown used to pieces [of detached carrier rockets] falling to the ground. But there has never been anything quite so powerful."
The Progress shuttle was carrying 2.6 tons of cargo for the six-member crew currently aboard the space station, but officials said the failed mission posed no threat to the astronauts.
No shortage of supplies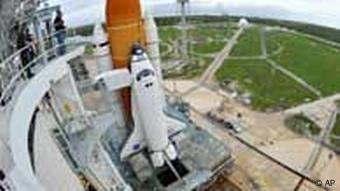 With US shuttles grounded for good, only Russia can take people to and from the ISS
"We have a very good backload of food, fuel and other consumables on board the ISS after the STS-135 shuttle mission," NASA spokesman Kelly Humphries told the AFP news agency, referring to the recent - and final - US space shuttle Atlantis mission.
With the end of NASA's space shuttle program, Russia is now the only country able to shuttle people to the ISS. The US space agency has said the crew had enough supplies on board to last until the end of 2012 if necessary. Japan and the European Space Agency also have cargo ships capable of reaching the ISS.
NASA also said it would be possible to operate the space station with just a three-member crew, should the ability to ferry sufficient cargo back and forth be compromised.
Three Russians, two Americans and one Japanese astronaut are currently on board the ISS, on a rotation that typically lasts 180 days. They are scheduled to return in September.
Russian Prime Minister Vladimir Putin has demanded an investigation into the cause of the crash. Possible reasons for the accident include a defect in the carrier rocket's propulsion systems or a problem with the detachment process, according to space officials.
The unmanned Progress vessels are launched using the same carrier rockets that the Russian space agency Roscosmos uses to propel its manned Soyuz spacecraft into orbit.
According to Russia's Interfax news agency, in an article citing an unnamed official, Roscosmos has temporarily grounded its Soyuz rockets pending results of the investigation into the incident.
Author: Mark Hallam (AFP, dpa)
Editor: Martin Kuebler