Israel has slammed a UN report into alleged human rights violations by its soldiers during the 2018 Gaza strip protests.
Israel "rejects outright the report" written on behalf of the UN Human Rights Council, Prime Minister Benjamin Netanyahu said. "The council sets new records of hypocrisy and lies, out of obsessive hatred of Israel, the only democracy in the Middle East."
The report, authored by a team of Argentinian, Bangladeshi and Kenyan representatives, found that Israeli soldiers "committed violations of international human rights and humanitarian law."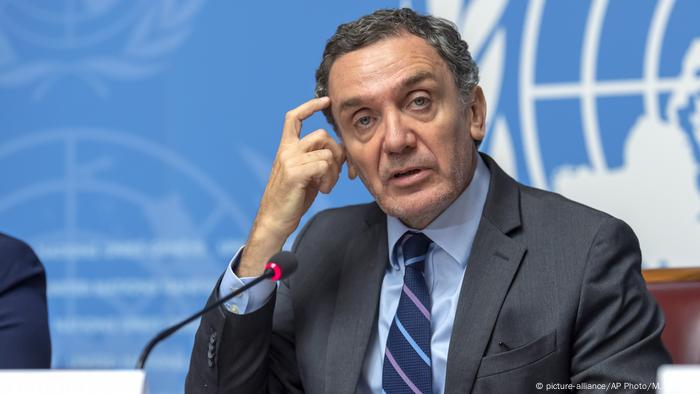 The UN Commission of Inquiry was headed by Argentinian legal expert Santiago Canton
'War crimes'
A total of 189 Palestinians were killed and more than 9,000 were injured during separate Israeli crackdowns on border demonstrators between March and December last year, the commission that authored the report said.
The commission said it found only two incidents — one in May and one in October, when Israeli troops were within their rights to use live ammunition.
"More than 6,000 demonstrators were shot by military snipers," the commission wrote, adding that some soldiers "intentionally" shot children, journalists and people with disabilities.
"Many young persons' lives have been altered forever. 112 people have had a limb amputated … 20 of these amputees are children."
The inquiry found that some of these alleged violations could amount to "war crimes" or "crimes against humanity" and has called on Israel to investigate.
Israel blames Hamas
Netanyahu blamed Hamas, a militant Islamist group that governs in Gaza, for sparking violence along the border fence.
Read more: US designates Hamas leader Ismail Haniyeh an international terrorist
"Hamas is the one which fires rockets at Israeli civilians, throws explosives and carries out terrorist activities during the violent demonstrations on the fence," he said.
Israel's foreign ministry spokesman accused the Human Rights Council of being "a de facto accomplice of Hamas."
Palestine, Hamas respond
Palestinian President Mahmoud Abbas has welcomed the probe's findings, saying they confirmed that "Israel conducts war crimes against people in Gaza and the West Bank."
Senior Hamas official Bassem Naim also praised the report and called on "the international community to hold the Israeli occupation accountable for the war crimes it continues to commit against the Palestinians."
nn/amp (Reuters, dpa, AFP)
Each evening at 1830 UTC, DW's editors send out a selection of the day's hard news and quality feature journalism. You can sign up to receive it directly here.