Israeli Jews joined Saturday evening's demonstration led by Arab Israelis to protest the new law that critics say prioritizes the country's Jewish character and undercuts Israel's democratic precepts.
Protesters waved Palestinian and Israeli flags at the rally. Some accused Prime Minister Benjamin Netanyahu's government of being an "apartheid regime," while others held signs reading "Equality."
Read more: Israeli parliament passes 'nation-state' law
Netanyahu posted footage of flag-waving protesters on Twitter, calling it "no better testament to the necessity of the nation state law."
Arab Israeli parliamentarian Ayman Odeh said Saturday's rally, estimated by Israel state television to include more than 30,000 people, was the "first time that tens of thousands of Arabs have come to Tel Aviv with Jewish democratic groups."
Amos Shoken, publisher of the Israeli newspaper Haaretz, also attended the rally and urged Arab Israelis "not to despair" and to continue to mobilize against the controversial law sought by far-right religious nationalists.
Many Jewish Israelis, including top retired security officials and politicians, have harshly criticized the new law, which refers to Israel as the historic homeland of the Jews and says they have a "unique" right to self-determination there. The new law also says the establishment of Jewish communities is in the national interest, and makes Hebrew the sole official language, downgrading Arabic.
Israel's Arab citizens are supposed to enjoy full citizenship rights, but continue to face discrimination in areas such as jobs and housing.
Israeli Arabs, the descendants of Palestinians who remained on their land when Israel was created in 1948, make up about 17.5 percent of the Israeli population.
Thousands of Druze, followers of a Shiite Islam offshoot who typically serve in Israel's military, packed the same Tel Aviv square a week ago. Some also attended the latest rally, reported the French news agency AFP.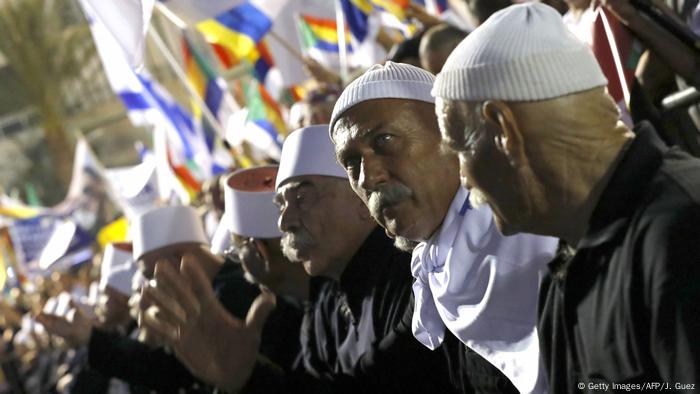 Druze demonstrated against the new law on August 4
'Future is at stake'
Mohammed Barake, who heads an Arab Israeli committee that has filed five court challenges against the new law, told Agence France-Presse that Arabs and Jews had gathered to "remove the stain" of what Netanyahu's government had termed the "nation state law."
Waving an Israeli flag, self-declared "Zionist" Yael Valia, 45, told AFP "we must guarantee equality for all the citizens of this country."
Arab Israeli psychologist Watan Dahleh said she had brought her two children to the rally "because their future is at stake."
ipj/cmk (AP, dpa, AFP)
Every evening at 1830 UTC, DW editors send out a selection of the day's hard news and quality feature journalism. You can sign up to receive it directly here.