Africa's democracies must be "decolonized." What works for Europe cannot be mindlessly adopted in Africa. That was the gist of the panel discussion "Fake Democracy/Democracy in Africa – a real chance or just for show?" at the Africologne Festival in the German city of Cologne. The event was attended by authors, artists and musicians from Burkina Faso, Gambia, Senegal, the Democratic Republic of Congo, Burundi and Zimbabwe, who sought out the public for a dialogue which lasted the whole day. The Africologne festival takes place every two years and is dedicated to all performance arts in Africa, showcasing theater, dance and performance productions.
There was a consensus among all participants that African democratic systems are bound to fail because they are bad copies of Western systems. "The idea is to take what is good, but then we have to see how it fits into social and historical reality," Felwine Saar told DW. The economist from the Gaston Berger University of Saint-Louis, Senegal, pointed out that the newly independent African states simply adopted Western education and economic systems. "It's a lack of imagination, a lack of creativity and lack of intellectual autonomy," Saar said, adding that Africans had to develop their own institutions.
'Lack of intellectual autonomy'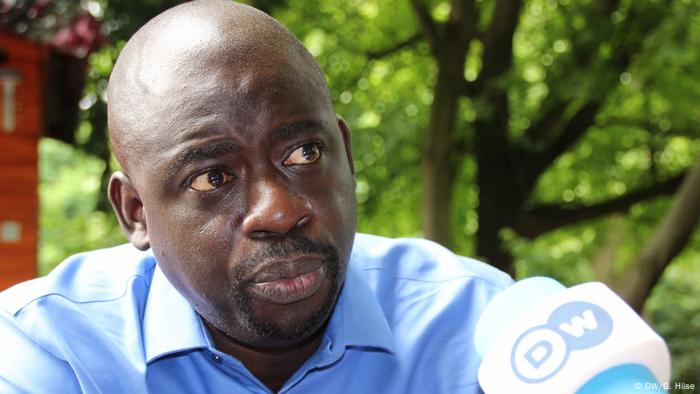 Economist Felwine Sarr called on Africans to create their own democratic institutions
Felwine Saar proposed his vision for the future of Africa in his much reviewed essay "Afrotopia." He writes of an emancipated Africa no longer under Western control. But he said that he has given up on discussing the issue with African politicians, because while they are knowledgeable, they are not interested in change. Saar placed his hopes on a stronger and better informed civil society: "If society is well informed, it can put pressure on politicians so that they rule the country in the right way."
In many African countries democracy and freedom of speech exist only on paper. "A joke in Zimbabwe says that you've got freedom of expression but no freedom after expression," Sam Farai Monro of the Satire-Trio Zambezi News told DW. The group created a satiric news show to parody the state's media biased news coverage. They hope to encourage their audience to think. The skits are aired online on social networks and distributed on DVDs. They are too critical for Zimbabwean television. The country's state security has started to accuse Zambezi News of campaigning to topple the government of autocratic long-time President Robert Mugabe.
Arts as a weapon for democracy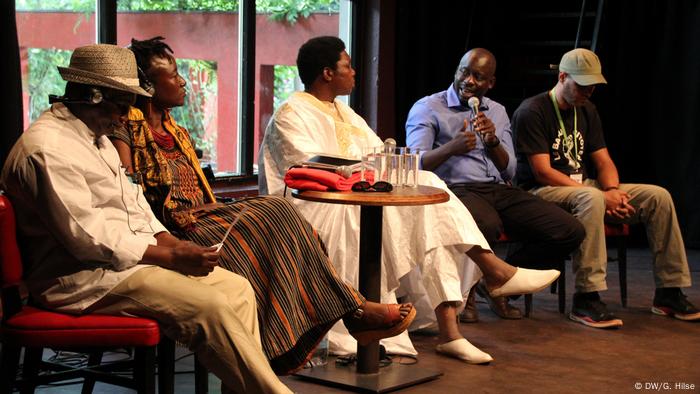 Panelists debate "Fake Democracy/ Democacy in Africa - a real chance or just for show?"
To provoke a dialogue through his art is also the aim of Freddy Sabimbona. He is the founder of the theater group "Troupe Lampyre" and has been the organizer of the Burundian theater festival "Buja sans taboo" since 2003. There he created a space where people can talk openly about politics, religion and sexuality in a country where censorship rules supreme. "The main goal of theater is not to tell people how to think but just that you need to think," said Sabimbona, adding that he wants to encourage debate as an important step towards democratization. According to Sabimbona, people are grateful for the opportunity, especially in times of political instability.
"I too found my own form of resistance in art and theatre," Odile Sankara from Burkina Faso told DW. "To play figures from texts chosen by me is a kind of resistance," the youngest sister of former President Thomas Sankara added. Sankara is this year's festival's patroness. Another important civil society activist from Burkina Faso in Cologne was Serge Bambara. The hip-hop musician is better known under the artistic name of Smockey. He was one of the main driving forces behind the "Balai Citoyen" movement which ousted President Blaise Campaore from power in 2014. Young people in the West-African country look up to Smockey, who said he was well aware of his responsibility: "It is to put pressure on politicians to make good decisions." Bambara told DW that there is a need to train and teach the next generation so that they have a chance to take over. He will not give up his fight."You can fight everywhere. You can obtain any victory if you believe in it," Bambara said.