It was the deadliest day in Iraq since May 2010. More than 115 people were killed and twice as many injured when 22 bombs exploded almost simultaneously in 14 cities on Monday. It was not an islolated incident: there were blasts across the nation in the weeks leading up to the spate of bombings this week.
The number of victims in June 2012 comes close to figures two years ago, when the violence slowly began to die down, giving Iraqis hopes of a peaceful life. In fact, November 2011 was the most peaceful month since the US and British troop invasion of Iraq nine years ago, says Iraq Body Count, an independent website that notes the deaths of civilians.
But ever since, figures have again been on the rise. Is the clock of terror being turned back?
Just two days ahead of the orchestrated string of attacks, the Interior Ministry announced the arrest of the head of the Bagdad al Qaeda cell. Several al Qaeda leaders from Anbar Sunni province were killed a week before the arrest. Authorities captured a senior al Qaeda member in Tikrit in April. In Dijala province, the terror cell is said to no longer exist. When US troops withdrew late last year, they said al Qaeda had been decimated and no longer posed a real threat. They also suggested that a mere 5,000 to 10,000 fighters were responsible for the violence in Iraq.
Attacks during Ramadan
Iraqi authorities were quick to point a finger at al Qaeda for the recent spate of bombings - clearly, they said, it bears the terror network's marks. Meanwhile, the Iraqi branch of al Qaeda has in fact claimed responsibility for the blasts.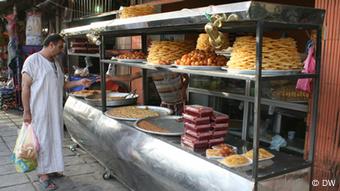 Attacks are more frequent during Ramadan
Iraqis are no strangers to coordinated bomb blasts during the holy month of Ramadan; the Muslim month of fasting has for years seen a flurry of suicide attacks. Terror groups ruthlessly exploit devout Muslims' collective habits.
In 2005, two trucks exploded in a parking lot between Bagdad's two most prominent hotels on the river Tigris - the detonation was so strong it completely destroyed the buildings' lower floors and shattered all windows within a radius of 200 meters. More than 100 people died and many were injured. The checkpoint at the bottom of the driveway leading to the hotels was vacant at the time of the attack because security officers had left to eat their iftar fast-breaking meal.
A year later, a suicide attacker managed to gain access to the lobby of yet another large Bagdad hotel after a security official fell asleep on the job. The attacker detonated an explosives belt, killing at least two dozen people. 2007 saw particularly deadly bomb blasts targeting market squares in Bagdad's Shiite Sadr City neighbourhood, where many people were shopping for their fast-breaking meal.
In most cases, the Islamic State of Iraq network - al Qaeda is a member - claimed responsibility for the attacks. It appeared obvious to security authorities that of course, al Qaeda was to blame for any bomb blasts during Ramadan this year, too.
Political motivation?
But who is really behind the attacks, who finances the bloody blasts? Intelligence sources say the Islamic State of Iraq terror network is in dire financial straits and that attacks are increasingly become contract killings. "Terror in Iraq is politically motivated," says Yonadam Kanna, one of the few Christian members of the Iraqi parliament. The government has been in a perpetual state of crisis since the US withdrew its troops at the end of 2011.
In vain, the opposition has for months tried to enforce a vote of no-confidence against Shiite Prime Minister Nuri al-Maliki. They accuse him of assuming too much power while trying to keep Sunni Muslims at bay. Maliki's State of Law party is the second-strongest party in parliament; the bloc headed by his opponent Iyad Allawi has one seat more but failed to form a governing majority.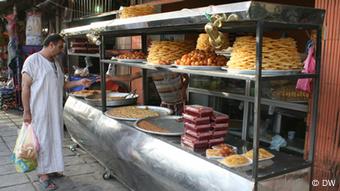 Attacks are more frequent during Ramadan
Two years ago, Maliki signed a coalition treaty for a "government of national unity" with various Shiite parties and Kurds. The agreement promised key ministries to Allawi, who was also to head a new security and surveillance agency. But none of the above ever materialized. Maliki is acting head of the interior and defense ministries and talk of a new security agency has ceased. Like Maliki, Allawi is a Shiite, but he enjoys the support of most Sunni parties. Tensions between the two politicians have for months paralyzed development in Iraq - everything but the oil sector has ground to a halt. The country has reached an economic and political standstill spelling disaster for the population.
Escalating conflict
In Egypt, people took to the streets in peaceful protest of their regime, while in Iraq, people face exploding bombs. Violent opposition has a long tradition in Iraq, according to Fareed Jazim Hamoud, head of the Law School at Kirkuk University.
"Ours is a culture of violence," he told DW. In a book published recently on the issue, he examined the different forms of violence in Iraq. Chapters on violence perpetrated by politics and religious fanatics are central. A US study commissioned before the troop withdrawal comes to similar conclusions, quoting three out of four Iraqis as believing religious fanatics fuel and political leaders misuse terror in the country.
A close look at Iraq's history shows numerous examples of the use of violence in conflict situations. The reign of Saddam Hussein, who ordered his own people massacred when Kurds and Shiites rebelled against him, left its mark on the population as did the bloody civil war between the Barzani and Talabani clans in Iraq's Kurdish north in the mid-1990s.
Iraqi insurgents fought grim battles against British and Ottoman occupying forces, whereas, according to a western diplomat, "Egyptians embraced the occupying forces." Not necessarily to their disadvantage: French Emperor Napoleon Bonaparte founded Egyptology and still today, Egyptians worship Muhammad Ali, the Ottoman governor often referred to as the founder of modern Egypt. "But Iraqis always fought against the occupying powers," he said.
Author: Birgit Svensson / db
Editor: Rob Mudge