According to information obtained by Deutsche Welle, the Iranian actress and documentary filmmaker, Pegah Ahangarani, has been missing for several days in the capital Tehran.
The Farsi-language service of Deutsche Welle, Germany's international broadcasting service, has learned from people close to the actress that Ahangarani has been arrested.
Deutsche Welle had set up a blog for Ahanagarani, who enjoys broad popularity in Iran, to report on the Women's World Cup soccer championships currently being held in Germany.
Ahangarani, last year, had written a DW blog for the Berlinale film festival and had also come to Bonn to attend the Deutsche Welle Blog Awards.
She was supposed to come to Germany this year to attend a few Women's World Cup games, but a day before she was set to leave Tehran friends said she was summoned to the Iranian Information Ministry.
It was apparently suggested that she forego the trip, or face arrest.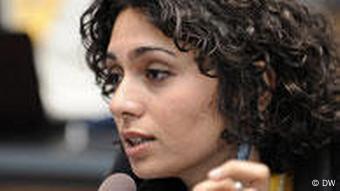 Pegah Ahangarani went into hiding before being arrested
Ahangarani first went into hiding
Because of this and other threats, Pegah Ahangarani did not travel to Germany, and in order not to place her in any further danger, Deutsche Welle discontinued the joint blog project.
Pegah Ahangarani's family said that after this incident she went into hiding at a friend's home in Tehran. But she appeared to have been arrested after her family had lost all contact with her and did not know where she was.
"There has been no trace of her for several days. All the government organs have remained silent and family and friends are wary about giving interviews," said Jamsheed Faroughi, the head of the DW's Farsi service.
On Thursday, however, officials in Tehran finally confirmed that Pegah Ahangarani had been taken into custody on July 10 and that she had been turned over to security forces of the Information Ministry and Revolutionary Guards on July 13.
Deutsche Welle has reported the incident on its Persian language radio programs and Internet site and has strongly protested against the arrest of the actress, demanding her immediate release.
Author: Sharam Ahadi (gb)
Editor: Andreas Illmer