A deputy central bank chief categorically denied that Iran was moving foreign currency out of Europe to Southeast Asia. The comments appeared to flatly contradict previous reported remarks by the bank's president.
"At the moment, Iran does not have any schedule to transfer its foreign exchange accounts to the named countries," Mohammad-Jafar Mojarad told the state news agency IRNA when asked if Iran has transferred the accounts to Asia.
Conflicting statements
The head of the central bank, Ebrahim Sheibani, had reportedly said on Wednesday that Iran was moving funds from Europe elsewhere after Western demands to freeze Iranian assets as a result of the conflict over Iran's decision to resume nuclear research.
The international crisis over Iran's nuclear program escalated when the Islamic republic resumed sensitive uranium enrichment research on Jan. 10, despite calls by European negotiators to maintain a halt to such activities.
"We transfer foreign currency reserves related to all sectors including oil foreign exchanges to wherever it is good for us and we have started this transfer," Sheibani was quoted as saying.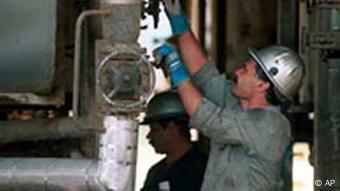 Workers at an oil refinery in Tehran
Iran is expected to earn at least $40 billion (33 billion euros) from oil production this year. In the past, Iran has deposited its oil revenues in European banks.
Sheibani himself, however, on Saturday rejected the idea that such transfers had already taken place, even though he left the door open for such a possibility in the future.
"We will transfer Iran's foreign accounts whenever we believe it is necessary," Sheibani told state television.
US: Transfer a sign of growing isolation
The United States said on Friday that any Iranian move to transfer currency deposits away from Europe would be a sign of growing isolation. US State Department spokesman Sean McCormack said such market maneuvers would not deter moves to refer its nuclear activities to the UN Security Council.
"I think it is an indication that Iran is further isolating itself from the rest of the world," McCormack told a press briefing. "I don't know what it is that they hope to accomplish by doing this."
London, Paris and Berlin called an emergency meeting of the International Atomic Energy Agency for Feb. 2 as Western countries aim to gather support for referring Iran to the UN Security Council for possible sanctions.
Admadinejad calls for sanctions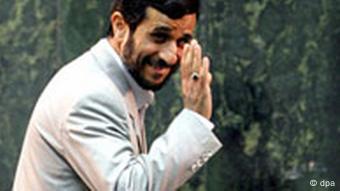 Iranian President Mahmoud Ahmadinejad
Iranian President Mahmoud Ahmadinejad meanwhile called on Islamic states to use their economic power against the West.
"Along with the political war, there's an big, hidden economic war going on and Islamic states should use their potential to cut off the hands of the enemy," he said.
According to news reports, Iranian leaders have also threatened that the nuclear stand-off might provoke an oil crisis.
Willing to compromise?
But despite the rhetoric, Tehran seems willing to work out a diplomatic compromise behind the scenes.
Citing high-ranking government sources, German magazin Der Spiegel reported Saturday that German Foreign Minister Frank-Walter Steinmeier received a message from the Iranian government, saying that Iran would be willing to negotiate a joint venture uranium enrichment program with Russia and China.
Russia had suggested establishing such a program outside Iran to alleviate Western fears of Iran using the technology to build nuclear weapons.