Iran, under pressure from proposed European Union sanctions, agreed Sunday to reopen discussions with Western powers concerning a nuclear swap deal it signed in May.
Iranian Foreign Minister Manouchehr Mottaki told reporters that Tehran would on Monday respond to questions raised by the Vienna Group, comprised of France, Russia and the United States.
"Tomorrow this…letter will be conveyed to the International Atomic Energy Agency in Vienna, and then we can immediately start negotiations for the details of exchanging fuel," he said.
Sanctions expected to have a 'material impact'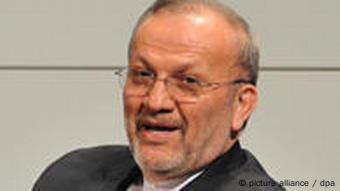 Mottaki announced Iran would send the IAEA a letter Monday
The EU had intended on Monday to hammer Iran with its toughest-yet sanctions against the country's oil and gas industry. The proposed measures, which respond to the United Nations Security Council's fourth set of sanctions passed early last month, were intended by EU top diplomat Catherine Ashton to bring Iran back to the discussion table with the countries of the Security Council – China, France, Russia, the United Kingdom and the US – as well as Germany.
The proposed sanctions would cut off the country's access to so-called "dual-use goods" - materials that could be used to develop weapons. They would include a measure to stop banks with Iranian ties from opening European branches.
According to the International Energy Association (IEA) in Paris, the sanctions were "expected to have a material impact on the country's energy industry." Though Iran is the world's fourth largest producer of crude oil, it imports 40 percent of its own fuel needs due to lacking refining capabilities.
Reviving talks
The last high-level talks between Iran and the six world powers took place in Geneva last October when the two sides approved a nuclear power swap that has since been delayed.
In May of this year, Turkey and Brazil persuaded Iran during a meeting in Tehran to store 1,200 kilograms of its low enriched uranium in Turkey until the fuel for Tehran's research reactor is delivered – an agreement the countries touted as a peaceful resolution to Iran's nuclear issue but which world powers deemed an insufficient solution.
Author: David Levitz (AFP/dpa/Reuters)
Editor: Andreas Illmer