The euro on Tuesday showed signs of a modest recovery against the dollar following days of losses fuelled by concern over unsustainable debt levels in euro-zone members Greece, Portugal and Spain.
"Investors may begin to think that a policy measure directed at Greece's fiscal situation is potentially in the works," said Barclays Capital in a research note.
However, a lot of damage has already been done. The euro has fallen more than six percent since mid-December when ratings agencies first downgraded Greece.
Dta from the Chicago Mercantile Exchange, often used as a proxy of hedge fund activity, showed that investors had bet $7.6 billion in short positions against the euro in the week to February 2. This was the highest level since the single currency was created in 1999, the Financial Times reported on Tuesday.
Alleviating fears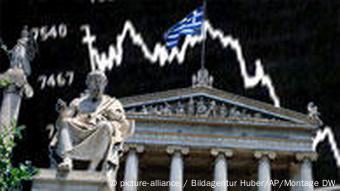 Athens hopes its austerity plan will pull the country out of a debt-fueled financial crisis
Governments in Athens, Lisbon and Madrid are pushing through enormous budget cuts in an attempt to restore confidence in their economies and ability to service their debt.
On Monday, Spain's secretary of state for the economy Jose Manuel Campa and finance minister Elena Salgado visited London to meet bondholders and reassure them that the recession-hit country was tackling its public spending deficit.
Spain has rejected any comparison to Greece's fiscal troubles. Campa said his country's deficit was mostly a result of the global financial crisis, and that only a small part is linked to structural problems.
"We are right in the middle of an important economic crisis, and this creates a deficit that in part has structural reasons, but a majority of it is cyclical," Campa told news agency AFP.
EU reiterates euro's strength
Meanwhile, the president of the European Commission, Jose Manuel Barroso, said he continued to have faith in the euro.
"Our common currency, the euro, will continue to constitute a major tool for our development and those who think it can be put in question must realize we will stick to our course," Barroso said during a speech in the European Parliament in Strasbourg on Tuesday.
The economic difficulties of the nations analysts have disparagingly come to call the "PIGS" (Portugal, Ireland, Greece and Spain) are expected to dominate parliamentary debate for some time.
On Thursday, a special EU economic summit will take place in Brussels. EU President Herman Van Rompuy had called for the meeting, saying the bloc needed more economic growth in order to finance its social model on a sound basis.
sac/dpa/Reuters/AFP
Editor: Sam Edmonds