In prison, contact with the outside world is strictly regulated and monitored. So it's fair to say that people who are locked up don't have a social life.
Since 1998, television sets have been allowed in German prison cells. And rules on the use of telephones have been relaxed. But the Internet is only allowed in a few of Germany's 16 states.
Inmates at the correctional facility in Gera, in the eastern German state of Thuringia, are somewhat in a better position. They are allowed to browse selected online content.
"Pages that aren't blocked, like employment agencies and probation assistance, help with their rehabilitation," says Thuringia's ministry of justice.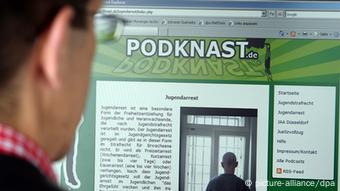 Some young prisoners were allowed to make a podcast about prison life - to warn others
Other pages are blocked, as are funny YouTube videos and social networking sites. In some cases, emails are allowed, but they are strictly controlled.
Special PCs for the cells
A company in Hamburg that specializes in communication systems for the justice system has created the necessary technology. "A right to communication and information are basic human needs and should no longer be considered a privilege by law enforcement officials," the company states in its mission.
The company built the "Multio" system- a computer with restricted Internet access that can also receive radio and television programs, and make phone calls. What happens online can be closely monitored by prison authorities.
The correction center in Gera has been trialing the system since the beginning of June. Two other prisons in Thuringia have also installed Multio. One of them is even considering installing computer workstations for prisoners on which controlled Internet access would be available. Users could even undertake distance education courses.
Faster integration
Herbert Windmiller, who heads the detention center department at Thuringia's ministry of justice, wanted to bring the Internet to inmates because the digital age brings rapid social changes that prisoners aren't a part of.
"I regard this as a major problem. If an inmate has been incarcerated for a long time then he will find it difficult to cope with society he'll find when he's released," says Windmiller.
Child pornography found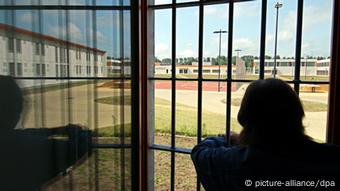 Most German prisoners are cut off from their Facebook friends
More and more German states are making limited internet access possible for prisoners. But North Rhine-Westphalia isn't one of them. The state tried to allow prisoners to access distance learning courses, but it stopped that in 2006, says Detlef Feige of North Rhine-Westphalia's justice ministry.
"In all the computers used by the inmates we found manipulated hardware and unauthorized software, as well as illegally copied films and music."
They even found child pornography on one computer.
"The use of computers in prison involves considerable security risks, especially in connection with Internet crime," says Feige.
Prison life on YouTube
But even in prisons where there's no Internet access, prisoner try to get on the Web. Smuggled smartphones are the most popular way for prisoners to get on the Net.
Thuringia's prison director, Herbert Windmiller, knows of cases where phones are simply thrown over the prison walls. That's safer than being given one by a visitor or lawyer. And that can bring about other problems.
"Some people have succeeded to put films on to the Internet using smuggled smartphones," says Detlef Feige of North Rhine-Westphalia's justice ministry.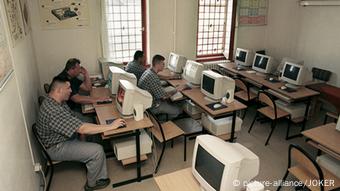 Some prisoners only get to use computers offline
But not every inmates will commit a crime when they log on. Many just want the opportunity to find information or write to friends and family.
The communications stone age
Even the state of North Rhine-Westphalia realizes the importance of the Internet. In Cologne, long-term prisoners nearing the end of their incarceration are given computer courses to learn about and practice with the Internet. So they have some knowledge when they are released.
But the problem works the other way as well - what happens to someone who is suddenly stuck in prison and is cut off from all modern forms of communication? The lawyer Steffen Lindberg represents someone who made millions from cheating others. Now the man is serving a sentence of eight years in a prison in Hesse, without Internet access.
"That's a real break for the prisoners," says Lindberg, "suddenly having to be without the Internet. That applies to my client, who is after all something of a multi-faceted personality."
"The justice system has a bit of catching up to do," he adds cautiously.