Philippine authorities said on Friday that the head of a Manila police station and his staff had been relieved of their duties after human rights representatives accused them of locking inmates in a secret jail cell for extortion purposes. The discovery is the latest chapter in President Rodrigo Duterte's controversial anti-drug crackdown.
Representatives from Human Rights Watch and the Commission on Human Rights said that a dozen men and women had been found cramped inside the tiny cell inside the police station. They were discovered when visiting journalists and human rights officers heard yelling from behind a wall, after which the detainees were released.
Gilbert Boisner, a regional directior of the Commission on Human Rights, said the dozen people had been held in the cell for one week without being processed for the drug-related charges against them. He said the inmates alleged that police demanded between $800 (731 euros) and $4000 from them in order to be released.
Boisner also said that the detainess claimed to have been tortured by the police and had been forced to urinate and defecate in plastic bags due to inadequate toilet facilities.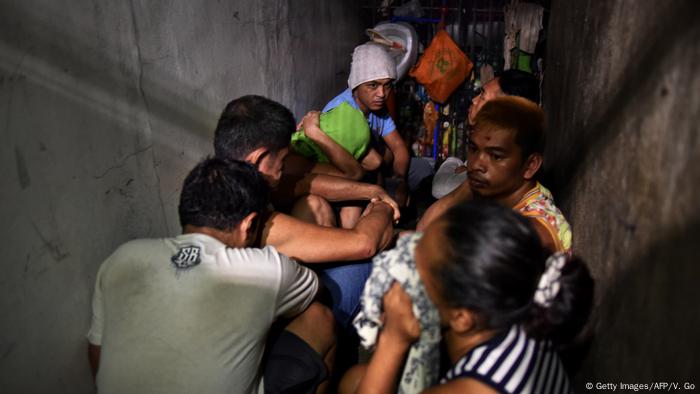 Alleged drug suspects were held in a secret cell behind a bookshelf at a Manila police station
Duterte's "drug war" criticized
Superintendent Robert Domingo, the station's commander, denied the allegations and said the inmates had been kept in the secret cell because of overcrowding due to the sheer amount of drug suspects. He said in an interview with ABS-CBN television that the station's drug enforcement unit had been removed and an investigation would begin soon.
Human Rights Watch said the incident was further evidence of the widening human rights abuses caused by Duterte's ongoing"drug war," in which thousands of drug dealers have been killed by police and anonymous vigilantes.
"The discovery of the secret jail is just the latest sign of how police are exploiting Duterte's abusive anti-drug campaign for personal gain," the organization said in a statement.
Duterte in the past has called the country's police "corrupt to the core" and even suspended the force from particpating in the anti-drug crackdown when it was revealed that officers had kidnapped and murdered a South Korean businessman as part of an extortion plot. However, Duterte later redeployed the police, who have reported killing more than 2,500 people as part of the crackdown.
blc/rt (AP, AFP, dpa)