Indonesian state oil company Pertamina said on Monday that it hoped to restore operations at its facility in four or five days following a massive fire and explosion that forced almost a thousand people to be cleared from the site.
Videos shared on social media showed huge flames engulfing the sprawling 125,000 barrels per day facility, while a large explosion could be heard.
Pertamina shut down the Balongan plant, which has a refining capacity of about 125,000 barrels of crude oil a day.
Located about 225 kilometers (140 miles) east of Jakarta, it supplies fuel to the capital city, as well as Banten and some regions of West Java.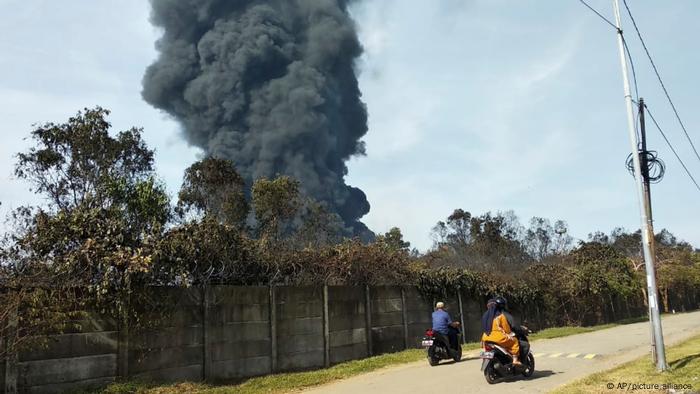 The refinery continues to burn Monday morning as firefighters battle the flames
What is the status of the fire?
Pertamina chief executive Nicke Widyawati told reporters that the blaze was concentrated in the refinery's storage tanks and that there had been no impacts on the processing plant.
Nicke told local media that only four out of the plant's 72 storage tanks were impacted.
"The main equipment at the refinery is not affected," she said. "We hope the plant can be operational again soon after we put out the fire so there are no disruptions to supply."
Efforts to put out the blaze were continuing, Nicke said, adding that she was optimistic it would soon be extinguished.
With the fire contained, the company expects operations could be restored in four to five days.
Pertamina director Mulyono said the company had "secure" levels of fuels stocks to supply the country ahead of the upcoming Islamic holidays of Eid Al-Fitr.
"There is no need for panic because stock is abundant. This is of course because demand conditions are not fully normal yet, so the stock is still very high," Mulyono said.
What do we know about what caused the blaze?
Local media reported that the fire started just after midnight during bad weather, but almost a day later, the cause is still under investigation.
Ahmad Dofiri, West Java police chief told local media that police suspected there was a leak at the site prior to the fire.
"While the leak was being handled, lightning struck," Dofiri said, adding that police were looking into what ignited the fire.
Operations at the complex ceased as the company concentrated efforts on handling the blaze.
Pertamina said that it was conducting "oil flow control" to prevent any further spread.
Beyond those being treated in hospital for burns, about 15 others were slightly injured. No Pertamina staff were hurt, continued Nicke.
What does this mean for oil production in Indonesia?
The Balongan refinery is one of the company's largest, processing oil in the Riau province and supplying fuel to the capital Jarkarta and western regions of Java island.
Shipping data on Refintiv Eikon showed an expected delivery of 600,000 barrels of crude oil from Gabon on April 10.
Repairs could take months depending on the damage, Mamit Setiawan, executive director of think tank Energy Watch said. Petramina's Cilacap refinery in Central Java should be able to meet supply shortages in the short term.
mb, jm, wd/msh (AP, Reuters, dpa)