An Indonesian airplane operated by budget airline Lion Air crashed shortly after takeoff at Jakarta's Soekarno-Hatta airport on Monday, authorities confirmed. The aircraft reportedly crashed just 13 minutes after takeoff, likely into the Java Sea.
According to Lion Air, there were a total of 189 people on board, including eight crew members. At least 23 government officials were reportedly among the passengers on the plane, as well as two babies and one older child.
Rescue officials said that contact with the plane was lost over Karawang, in West Java province, not far from the capital.
Muhmmad Syaugi, the head of Indonesia's search and rescue agency, said that rescuers had retrieved some body parts but had so far not found any survivors.
"We don't know yet whether there are any survivors," Syaugi said. "We hope, we pray, but we cannot confirm," he added.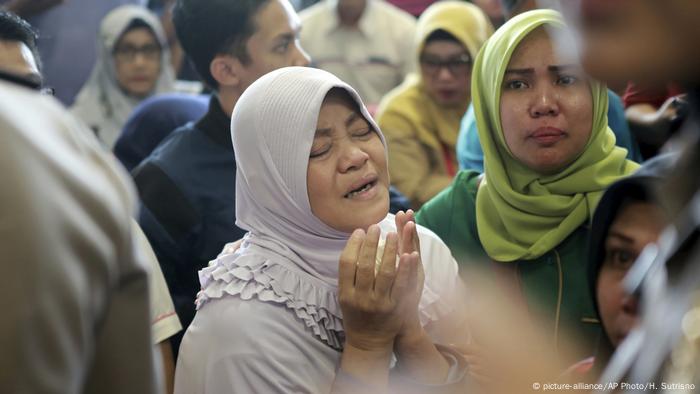 Relatives of passengers on board Lion Air flight JT610 wait for news of survivors
Lion Air said that the aircraft was a passenger plane en route to Pangkal Pinang on a Bangka Island, east of Sumatra.
Some 300 people, including police, soldiers and local fishermen are involved in the search. Divers are currently trying to locate the plane's fuselage which is believed to be lying on the sea floor at a depth of around 35 meters (115 feet).
Read more: AirAsia Flight 8501 spotlights Indonesia's air safety practices
Speed increased
Swedish flight tracking service Flightradar24 reported that the airplane was a Boeing 737 MAX 8 that had been delivered to Lion Air in August. They also wrote on Twitter that "preliminary data show an increase in speed and decrease in altitude at last transmission."
Lion Air told reporters that the plane was airworthy and had only been operated by their company since August. Its pilot and co-pilot had together amassed 11,000 hours of flying time. The weather at the time of the flight had been deemed safe, with a few clouds but no major storms or wind.
Boeing said in a statement that it was "deeply saddened" by news of the crash, adding that it "stands ready to provide technical assistance to the accident investigation."
Air transport is crucial for connecting the country's tens of thousands of islands, but Indonesia has seen a number of airplane crashes in the past few years, including a Lion Air crash near Bali in 2013.
In 2017, Indonesia's air traffic controllers association announced that the rate of take-off and landings in Jakarta permitted by state-run air navigation company AirNav was larger than the airport's capacity, thus increasing the likelihoood of accidents.
law,rs,es/ng (dpa, AP, Reuters)