The authorities' said their "preliminary presumption" was that bad weather caused the Sunday crash. The controllers lost contact with the aircraft as it was approaching Wamena airport in the eastern province of Papua, where land travel is often impossible. All 13 people on board were killed.
"The tower in Wamena has spotted the plane, but it was not certain that the plane saw the runway," air force deputy chief of staff Hadiyan Sumintaatmadja told a news conference. "It was cloudy in Wamena and the airstrip was foggy."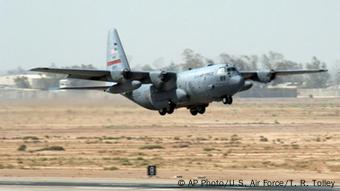 The American-designed Hercules C-130 is used for transport by armies around the world
Rescuers located the wreck on a nearby mountainside, and the bodies of the victims were being transported to the airport, said Ivan Ahmad Riski Titus, the operational director of Indonesia's Search and Rescue Agency.
String of deadly crashes
The plane carried three pilots and nine other army personnel, as well as one passenger, the officials said.
Sunday's incident is likely to raise more questions over Indonesia's patchy air safety record, coming only weeks after a police plane crashed near Batam and an army helicopter crashed in Borneo. In yet another deadly incident, a military helicopter went down in March in central Indonesia.
However, the deadliest crash in recent years involved another air force Hercules C-130 cargo plane in the summer of 2015. The aircraft crashed into a neighborhood of Medan, Indonesia's third largest city, killing military personnel, family members traveling with them, and people on the ground.
dj/tj (AFP, Reuters, AP, dpa)