Stormy weather continues to hamper international search and recovery teams as they scour the Java Sea, southwest of the island of Borneo, for the aircraft's wreck, as well as all for the bodies and cockpit voice and flight data recorders, or black boxes, hoping to determine what brought the plane down.
A major breakthrough came on January 7 with the discovery of a chunk of the plane's tail, which is where the black boxes are kept, buried into the seabed 30 meters (100 feet) underwater. However, divers are struggling to make progress as they battle strong currents in murky waters where average visibility is only two meters.
AirAsia Flight QZ8501 lost contact with air traffic control on December 28, just after the pilots requested a change in course to avoid turbulence. On board the Airbus A320-200 - which was halfway through a two-hour flight from Indonesia's second-biggest city Surabaya to Singapore - were 162 people. 39 bodies have been retrieved so far.
Many factors
An initial report on the website of Indonesia's meteorological agency BMKG suggested the weather at the time the plane went down sparked the disaster, with icing likely causing engine damage. But as Gerry Soejatman, an independent Jakarta-based aviation analyst told DW, air accidents are almost always caused by more than one factor.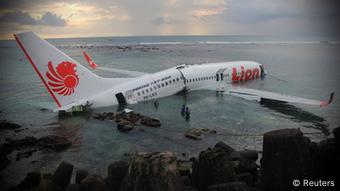 The International Air Transport Association has refused to allow Lion Air to join its ranks, due to the company's safety record
"Weather is certainly going to be a factor in the list of causes of the accident, but whether or not it is going to be the primary factor or just a secondary contributory to the accident, is still too early to say," the analyst told DW, adding that the black boxes were crucial for determining the cause of the crash.
Headquartered near Kuala Lumpur, Malaysia, AirAsia is one of the most successful low-cost airlines in the region, comprised of eight affiliates, including Indonesia AirAsia, which operated Flight QZ8501. Regarded as one of the pioneers of discount air travel in Asia, the company had had no fatal accident prior to this flight.
With the birth of Indonesian AirAsia in 2005 - which is 49 percent owned by the main company - hopes were high that Jakarta had turned a corner in terms of its air safety record. But the recent incident has once again raised urgent questions about the safety of the Southeast Asian nation's booming airline sector.
Poor safety record
Several Indonesia-based airlines have closed their doors in recent years after suffering numerous accidents. The Aviation Safety Network, an independent initiative which covers accidents and air safety issues, lists more than 50 safety incidents over the past ten years involving carriers in Indonesia, some of which ended fatally.
One of the most serious incidents occurred in 2007, when a Boeing 737 - operated by budget carrier Adam Air - crashed claiming the lives of everyone onboard. Some 102 passengers and crew lost their lives.The International Civil Aviation Organization, a UN agency, ranks Indonesia as one of the least safe air markets in the world.
In addition, the International Air Transport Association (IATA) has refused to allow Lion Air, Indonesia's fastest-growing low-cost carrier, to join its ranks, due to the company's safety record. With the exception of Garuda Airlines, Mandala Airlines (not currently operating), Airfast and Ekspres Transportasi Antarbenua (operating as PremiAir) and Air Asia, all other Indonesian passenger airlines are currently banned from flying in the European Union due to safety concerns.
Rapid expansion
But at the same time, Indonesia - the world's fourth most populous nation - remains one of the fastest-growing aviation markets in Asia. The country's impressive economic growth of recent years has enabled its middle class to grow rapidly.
As a result, ever since Indonesia deregulated its aviation industry in the 1990s, several low-cost airlines have emerged, allowing an increasing number of people travel by air, be it domestically or internationally.
Since 2008, the number of domestic passengers has increased between 15 and 20 percent annually, with the domestic market doubling in only four years. As Hamburg-based aviation expert Heinrich Grossbongardt explains: "For a country like Indonesia which stretches over 5,000 Kilometers and has thousands of islands, air traffic is vital for its economic development."
According to numerous estimates, within two decades Indonesia will be one of the ten largest aviation markets in the world, in terms of flights flown per day.
Concrete steps needed
Joshua Kurlantzick, senior fellow for Southeast Asia at the US-based Council on Foreign Relations (CFR), says that flying in Indonesia, though not safe enough, is still safer than taking one of the rickety inter-island ferries, which have some of the worst marine safety records in the world. "Still, just being safer than Indonesia's horrendous ferries is not a high bar," he added.
Given the significance of the country's expanding aviation sector, many have called on the Indonesian authorities to take concrete steps to improve air safety, most importantly to reassure passengers, and also to boost tourism arrivals and attract more foreign investment.
Southeast Asia analyst Kurlantzick believes that Jakarta first needs to implement legislation that will help boost pay for airport managers, air traffic controllers and aircraft safety inspectors. "Low pay attracts mediocre talent, and increases the possibility that airlines could bribe managers, controllers and inspectors," he told DW.
As it turns out, AirAsia did not have a license to fly the Surabaya-Singapore route on Sunday, the day of the week that Flight 8501 crashed. Officials have since said its permit for the popular route was only for Monday, Tuesday, Thursday and Saturday, and that AirAsia quietly switched three of those days.
In addition, Kurlantzick argues that Jakarta should take steps to ensure that pilots operating in Indonesia are better-informed, better-trained, and working on adequate rest. Indonesia this week already took a positive first step by mandating that all pilots attend briefings, before takeoff, with flight operating officers - the briefings will discuss the weather, route, and other issues.
But the CFR analyst believes the government can take many other steps to improve the quality of pilots operating in Indonesia.
A tough task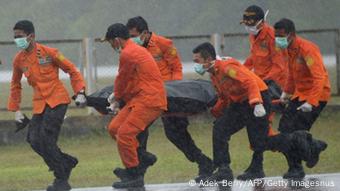 39 bodies of victims from AirAsia Flight QZ8501 have been retrieved so far
"Low-cost carriers in Indonesia have become notorious for overworking their pilots, which may be one reason why several of Lion Air's pilots have been caught with methamphetamines the past three years, said Kurlantzick, stressing that Jakarta needs to implement and enforce stricter regulations on the amount of hours pilots can work per week, and to increase enforcement of random drug and alcohol testing for pilots.
Aviation expert Grossbongardt, however, argues that implementing these changes will be a formidable task, from a regulatory perspective, given the rate of expansion of the industry. He says that while airlines do need to establish a strong safety culture and invest in the training of pilots and technicians, the industry's growth in Southeast Asia is making it difficult for carriers to find enough experienced aviation personnel.
"I see this as something which might limit growth in the future, because experience in the cockpit only builds with flight hours, especially in a demanding operating environment like Southeast Asia," said Grossbongardt.