AirAsia's Flight QZ8501 lost contact with air traffic control on early Sunday, December 28, just after the pilots requested a change in course to avoid bad weather. On board the Airbus A320-200, traveling from Indonesia's Surabaya to Singapore, were 162 people - 155 Indonesians, three South Koreans and one each from Singapore, Malaysia and Britain, plus a French pilot.
Regarded as one of the pioneers of discount air travel in Asia, the airline had had no fatal accident since it started flying in 2002. But the same doesn't apply to many other Indonesia-based airlines.
The Aviation Safety Network, an independent initiative which covers accidents and safety issues with regard to airliners, military transport planes and corporate jets, lists more than 50 safety incidents over the past ten years involving carriers in Indonesia, some of which ended fatally.
With the exception of Garuda Airlines, Mandala Airlines (not currently operating), Airfast and Ekspres Transportasi Antarbenua (operating as PremiAir) and Air Asia, all other Indonesian passenger airlines are currently banned from flying in the European Union because of safety concerns.

The US State Department encourages US citizens traveling to and from Indonesia "to fly directly to their destinations on international carriers from countries whose civil aviation authorities meet international aviation safety standards for the oversight of their air carrier operations under the FAA's International Aviation Safety Assessment (IASA) program."
UK-based independent aviation expert Chris Yates says in a DW interview that Indonesian airlines have had nine safety incidents in 2014 alone. He adds that although the disappearance of AirAsia Flight QZ8501 is probably linked to bad weather conditions, the incident will certainly put the country's air safety issues back in the spotlight.
DW: What can you tell us about AirAsia's safety record?
Chris Yates: Since its inception in 2001, AirAsia has had a clean bill of health. The airline has had what some would say a meteoric rise to dominance within the markets it serves and entirely without incident until yesterday. Previously, the airline operated a mixed fleet, including the Boeing 737, but nowadays operates only the Airbus A320 series aircraft. It does so because of the economic benefits standardization on a type brings with it.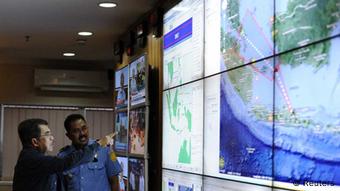 Yates: ' There have been nine incidents this year alone, though fortunately with no casualties'
Would you agree with those who argue that the recent disappearance of the AirAsia jet is only the latest in a series of air incidents for Indonesia?
It's true to say that Indonesia has a very poor safety record. There have been nine incidents this year alone, though fortunately with no casualties. Perhaps the most serious incident of recent times occured in 2007, when an AdamAir Boeing 737 crashed 85 kilometers (53.1 miles) West off Pambauang, claiming the lives of everyone aboard. Some 102 passengers and crew lost their lives.
With the birth of Indonesian AirAsia, it had been hoped that the country had turned a corner in terms of its air safety record, but the recent loss of this Airbus A320 has brought the old questions flooding back.
Do you see any link between the recent AirAsia jet disappearance and the Indonesia's air safety record?
At the moment there is nothing to suggest that these factors are connected in any way. From the abundance of information already in the public domain, it would seem that the loss of the AirAsia airliner may well be down to the weather.
The region within which it was flying is equatorial and therefore subject to dramatic weather conditions. At the time of this incident, cumulus mimbus cloud was measured up to 50,000 feet altitude within which storm formations were throwing out severe gales and torrential rain. The pilot had requested a deviation from his planned track and a climb to higher altitude, although permission was not given due to conflicting traffic. He was presumably attempting to discover smoother air in which to continue the flight to Singapore.
It is my view that weather conditions alone brought this aircraft out of the sky.
Why do Indonesian airlines have such problems with safety?
Issues with safety have many causes including poor maintenance, pilot training, mechanical, and air traffic control among other things. It is human nature to demand answers when a tragedy occurs, but they can only be given once an investigation has taken place.
In the case of Flight QZ8501 we need to find the wreckage, recover the twin black box recorders and throughly analyze them, before we can get to a definitive answer. At the moment we simply cannot rule anything out, but in the end the answer may well lay with the weather.
Do Indonesian airlines face restrictions because of air safety incidents?
Indonesian carriers have faced international restrictions in the past. A no-fly ban was placed on Indonesia by the European Union in 2007 but this was subsequently lifted in 2010 for several airliners since an audit of safety records found significant improvement.
What more can the aviation industry do to improve safety?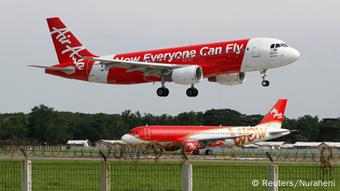 Yates: 'It is my view that weather conditions alone brought this aircraft out of the sky'
The loss of Malaysia Airlines MH370 earlier this year threw up a whole bunch of questions related to tracking of aircraft and finally exposed the ACARS communications system relied upon carriers around the world as no longer being fit for purpose. The goal now is to find an alternative solution capable of sending voice and data directly to ground in the event of an airborne emergency.
How can this be achieved?
Numerous companies are working on this task. One such is Wisscom Aerospace Ltd, based in Oxford, England. Its SMARTTRACK & CLOUDBOX products are software solutions which may go someway to filling this void in the communications infrastructure supporting civil aviation. However, any new technology requires a hard-nosed civil aviation sector to buy in.
The tragic loss of the AirAsia flight may well provide the catalyst for some soul searching amongst airline management, and products such as these will find their way into aircraft cabins before too long.

Chris Yates is an independent aviation safety consultant based in the United Kingdom.