India's government-backed Unified Payments Interface (UPI) — a digital payments system that allows users to transfer money or make payments in real time using mobile apps — is rapidly causing Indians to drop their obsession with cash.
Transactions using UPI — developed by the National Payments Corporation of India (NPCI), an umbrella organization of Indian banks — have surged nearly 57,000 percent since November 2016, when Prime Minister Narendra Modi recalled 86 percent of cash in circulation and pushed for a more cashless economy.
Read more: One year after demonetization – Has India eliminated 'black money'?
UPI allows instant money transfer round the clock. Users are simply required to create unique UPI IDs and link them to their bank accounts. Once linked, users can use their unique IDs instead of their bank account details to make or receive payments.
"The introduction of UPI in August 2016 led to the creation of a wealth of new innovative payment solutions, and the adoption rates of UPI payments are truly spectacular," US-based Fidelity National Information Services Inc. said in a December 2017 report.
India's payments system was assigned the top rating by Fidelity National — the only system to get the top score of five among more than 40 payment systems tracked by the company.
The Swiss Interbank Clearing and Kenya's PesaLink scored four while China's payment system got a score of two. Fidelity National took into consideration among other things the level of government involvement, speed of settlement and operating hours.
'Cannibalizing' global giants
UPI transactions reached almost half the value of debit and credit cards swiped at stores last month, news agency Bloomberg reported, citing data from Reserve Bank of India.
The growth over the past few months have been mainly driven by the entry of global technology giants, most notably Google, which now processes the same number of digital transactions as Axis Bank — India's fifth largest bank by market cap.
"The UPI is cannibalizing small size transactions from card companies," Arnav Gupta, an analyst at Forrester, told DW. "They may not feel the immediate pinch but as soon as people get hooked on to digital payments they will stop using cards. They are an additional cost."
More and more businesses are integrating UPI into their apps. Among them are Amazon, cab-hailing firm Uber and its Indian rival Ola, Jet Airways — India's second-biggest airline by passengers — and Paytm, India's most popular mobile wallet provider. Facebook's Whatsapp, with more than 200 million users in the country, is piloting a payments service that uses UPI.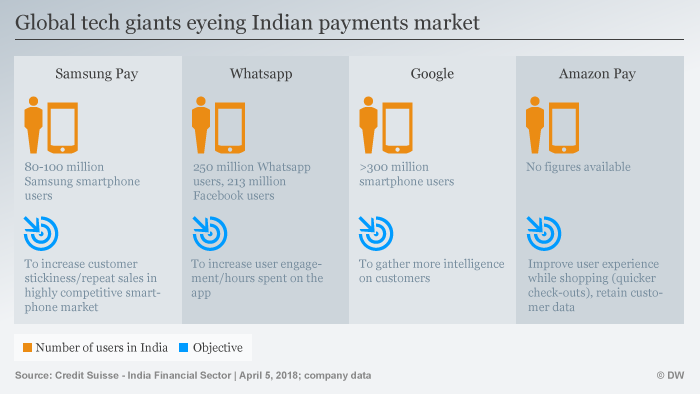 Going cashless
Compounding troubles for card companies is the scant availability of swiping machines across India. There are just 1,900 swiping machines per million people compared with nearly 16,600 in China, according to Credit Suisse Group.
In contrast, there is one smartphone on every four Indians — a number that is expected to grow as internet penetration rises. This puts UPI in a better position to capture market share as more and more Indians drop their obsession with cash.
Cash still accounts for some 70 percent of the country's total transactions by value.
"UPI and mobile-based transactions could lead to some shift away from debit card usage as they are used more for low value transactions (compared to credit cards)," Credit Suisse analysts wrote in a note published in February. "However, a large share of the growth in UPI volumes is likely to be driven by the shift from cash to digital."
Read more: Was Indian PM Modi's demonetization move a failure?
Lower set-up costs for UPI compared to card swiping machines is further incentivizing banks to bring more and more businesses onboard UPI. Today, less than 20 percent of UPI transactions are person to business (P2B).
UPI, which is seeing its average transaction size drop with the increase in volumes, is being touted to help millions of India's unorganized retail stores get on to the digital bandwagon.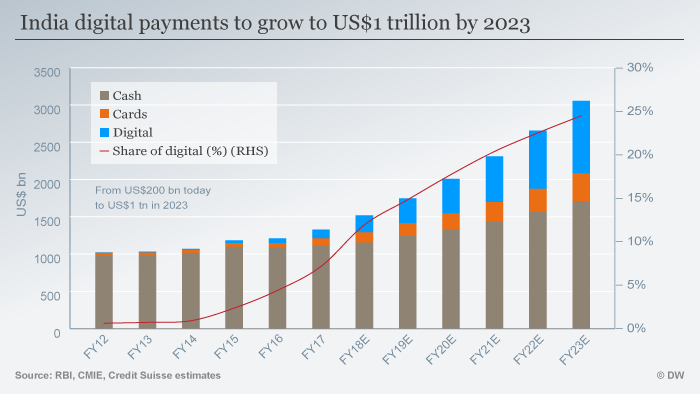 Innovating to remain relevant
The card companies are taking notice.
At stake is a digital payments market that Credit Suisse says will grow to $1 trillion (€817 billion) over the next five years. Currently, India's digital payments market is worth less than $200 billion.
Mastercard and Visa, which generate revenue by facilitating credit- and debit-card transactions, are turning their attention to incorporating mobile-centric features.
They have partnered with India's NPCI to launch Bharat QR, a QR code-based payment method that enables people to make cashless purchases by simply moving their smartphone's camera over a QR code at a shop.
Mastercard and Visa cards can also be integrated onto Samsung Pay app in India. The app allows users to make payments by placing their smartphone near a card swiping machine.
"The card companies must consider partnering with UPI and integrating it on their platforms," said Gupta. "They should let their customers choose a payment method. There's no point taking UPI and others head on."