Studio executives on Monday "voluntarily" pushed back the release date for "Padmavati", canceling the planned December 1 debut for the Bollywood's latest historical epic. The move comes after weeks of violent protests and murder threats against people involved with the film.
Read more: India's caste system: Weakened, but still influential
The new release date would be announced "in due course," the Indian Viacom18 Motion Pictures studio said in a statement on Sunday.
"Padmavati" tells the story of a semi-mythical Hindu queen Padmini of the Rajput warrior cast. According to a 16th century Sufi epic poem, Padmini walked into a funeral pyre to avoid being captured by the Muslim sultan of Delhi, Allaudin Khilji, who was enchanted by her beauty.
The movie enraged Hindu nationalists, however, after rumors surfaced about it featuring a romantic scene between the two medieval rulers. Other reports claim the scene was in fact a dream sequence.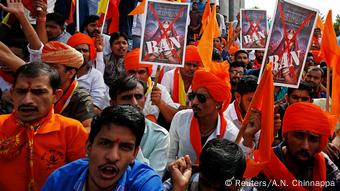 The movie prompted protests in several Indian states
Protesters burn effigies
A Rajput group dubbed Karni Sena attacked the Bhansali and vandalized a set during filming in the northwest Indian state of Rajasthan in January. Another set was also vandalized in March, with costumes and props set alight.
Earlier this month, the group leaders said that the film's lead actress, Deepika Padukone, should have her nose cut for her involvement in the film. Protesters also burned effigies of both Bhansali and Padukone on the streets, with Mumbai police assigning security detail to both the director and the Bollywood star.
The movie director Sanjay Leela Bhansali has denied the allegations of distorting history.
Politician offers bounty for director and lead
The threats culminated on Sunday with Suraj Pal Amu, a senior official of India's ruling Bharatiya Janata Party (BJP) from the state of Haryana, offering a bounty against Bhansali and Padukone and threatening to break the legs of Ranveer Singh, the actor who plays Sultan Khilji.
Pal Amu said he would pay 100 million rupees ($1.536 million, €1,304 million) to whomever "beheaded" both Padukone and Bhansali.
The filmmakers released promotional material showing Queen Padmini with her Hindu husband, Raja Rawal Ratan Singh.
Commenting on Pal Amu's statement, another BJP leader, Anil Jain, said that the ruling party does not support the threat. Jain said the BJP asked Pal Amu to explain his comments. At the same time, he added that the party of the Indian Prime Minister Narendra Modi is not in favor of "Padmavati" being released, according to India's NDTV broadcaster.
Read more: 'Not in my name': Indians protest vigilantism
The movie has not yet been approved by India's censor board.
The board routinely removes sex scenes from foreign movies showed in India. However, they also ban films deemed offensive to various religious groups, with the movie version of the Dan Brown novel "The Da Vinci Code" prevented from showing in Goa, which has a large Christian population.
dj/ls (AFP, AP)