Waving Indian flags and placards in support of a more effective anti-corruption law, supporters of the Indian social activist Anna Hazare gathered at New Delhi's memorial to Mahatma Gandhi.
Anna Hazare paid homage to Gandhi before starting his hunger strike. The veteran social activist demanded greater public participation in the formulation of an anti-corruption bill, saying that fake assurances on the part of the government would not be accepted.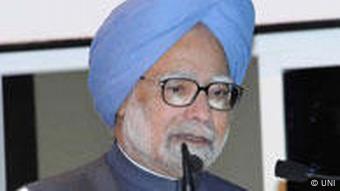 Manmohan Singh's government has been hit by a series of scandals in the past year
"I have begun this fast because the committee drafting the Lokpal bill should be made up equally of representatives from the government and of the common people," the 72-year-old said. "Both need to work on this legislation and not the government alone."
Need to include civil society in decision-making 
The government has so far agreed to set up a committee to consider the Jan Lokpal, or Citizen's Ombudsman, bill but has rejected a demand by leading civil society members to include them in the process. These insist the law for controlling corruption must be formulated in consultation with them if corruption in public life is to be curbed.
The movement "India Against Corruption" has been building up for a few months, against a backdrop of several scandals, which include a multi-billion dollar telecom scam.
Noted dancer Mallika Sarabhai said the fight would reach its logical conclusion. "We are totally with Anna Hazare, I am one of the signatories of the original letter. And it has to become a people's movement. There is no other way - the government will ultimately have to give in."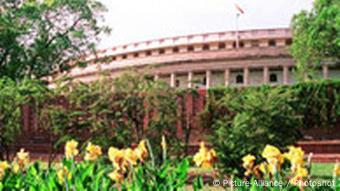 If the bill eventually passes into law, MPs, ministers and the PM could be prosecuted
Arvind Kejriwal, a winner of Asia's Nobel prize equivalent, the Magsaysay award, agreed: "There is no option but to involve us. And as Anna Hazare points out, this is a people's movement. We don't live in a colonial era anymore where we follow orders. We will take decisions." 
Council set up to review the bill
Conscious of the strong undercurrent against corruption, the ruling Congress party's National Advisory Council subgroup on transparency recently met to discuss the bill. The body, which is chaired by party chief Sonia Gandhi, is expected to refer the bill to the government with some changes.
"I think there is a huge upsurge of concern and anger among many people across the country about corruption," said one member of the council Harsh Mander. "We are looking at the government draft. I think we need to make a law that clearly does not exclude anybody, that no person is so high as to be outside the purview. So there are many questions about the details of what this law should look like, which is what we are discussing."
If the bill is ever passed into law, anti-corruption proceedings against ministers and MPs, including the prime minister, will be possible.
Author: Murali Krishnan (New Delhi)
Editor: Anne Thomas