At least 125 people have been killed after torrential rainfall caused flooding and landslides in western parts of India, officials said Saturday. The figure was more than treble the 36 deaths reported on Friday.
Rescue operations were underway as teams struggled to get through sludge and debris to reach homes submerged in the monsoon.
The western state of Maharashtra is the worst-affected as it records the heaviest July rainfall in four decades.
"Rainfall in various parts of the state often coinciding with high tides and also discharge from dams led to various regions... getting inundated," the Maharashtra state government said in a press release.
With downpours lasting several days, dozens of people were reported missing near Mumbai, India's financial center. The coastal state of Goa has reported the worst floods in decades.
Rescue operations underway
Four more bodies were recovered in Taliye, southeast of Mumbai, after landslides flattened most homes in the village. The state's chief minister is set to visit Taliye on Saturday after a total of 42 deaths were been recorded in the village.
"About 40 people are still trapped. The possibility of rescuing them alive is thin as they've been trapped in mud for more than 36 hours," a senior official in the state said on conditions of anonymity.
Rescue groups were searching for victims in four other places in Maharashtra after largescale landslides.
"Around 90,000 people were rescued from flood-affected areas," the state government said in a statement, as authorities were forced to release water from overflowing dams.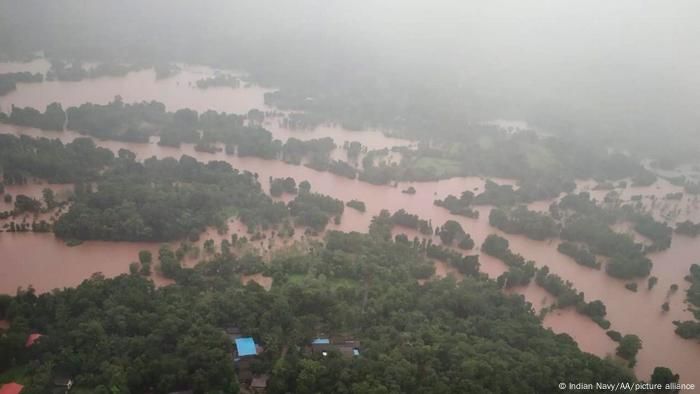 A large area submerged following heavy monsoon rains in western India
Fears over climate change
While flooding and landslides are often reported during India's severe monsoon season, harsh weather has impacted several parts of the world in recent days. Heatwaves have hit parts of North America, and China and western Europe, including Germany, have seen largescale flooding.
According to a report from the Potsdam Institute for Climate Impact Research (PIK) published in April, climate change is making India's monsoons stronger.
The report warned of potentially serious consequences for food, farming, and the economy.
"Since Indian society is overall affected by the monsoon in a very strong way, stronger variability produces problems for agriculture, but also for the organization of public life," Anders Levermann from PIK and Columbia University said.
Indian environmentalists have also issued warnings that climate change, in conjunction with indiscriminate exploitation of fragile coastal regions, could lead to more disasters in the area.
see/mm (Reuters, AFP)