Theresa May's official spokeswoman said the meeting with Scotland's First Minister Nicola Sturgeon in Edinburgh on Friday looked at Brexit issues, and what May regarded as the resolved issue of Scottish independence from the rest of the United Kingdom.
May, who only took up her office on Wednesday, spent about 45 minutes at Bute House, the First Minister's official residence, saying she had held an "excellent meeting" with the political leader of Scotland and head of the Scottish Government.
"Scotland is very important to me," May said during her first official trip as PM. "When I stood on the steps of Number 10 Downing Street on Wednesday I made clear that I believe in the United Kingdom and I have just had an excellent meeting with the First Minister, a very constructive and positive meeting," May said after the talks. "We've discussed the upcoming EU negotiations and I am very clear that I want the Scottish Government to be fully involved and I want to get the best possible deal for the whole of the United Kingdom."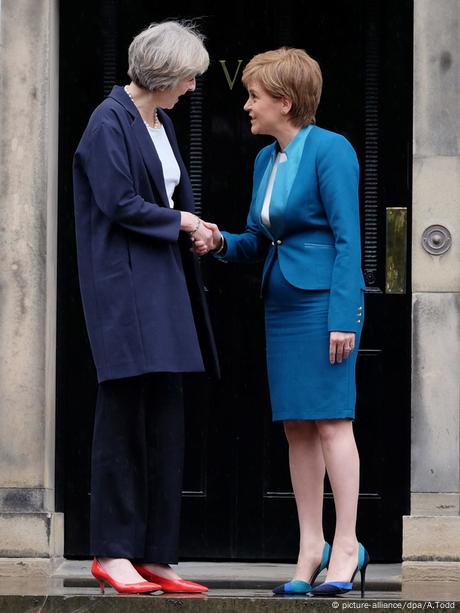 UK PM Theresa May with Scotland's First Minister Nicola Sturgeon
No early Article 50 trigger
May said Article 50 would not be brought forward until there was a UK-wide approach to managing the exit. "I'm willing to listen to options and I've been very clear with the first minister today that I want the Scottish government to be fully engaged in our discussions," she said.
"I have already said that I won't be triggering Article 50 until I think that we have a UK approach and objectives for negotiations - I think it is important that we establish that before we trigger Article 50," which represents the start of a process which could take two years for the UK to formally negotiate its exit from the EU.
A new ministry in London has been set up to negotiate the UK's departure from the bloc under leading Brexit campaigner David Davis. As Secretary of State for Exiting the European Union, Davis said on Thursday that Britain should trigger Article 50 and formally notify the European Union of the country's intention to withdraw from the bloc "before or by the beginning of next year."
In May, Davis suggested the UK would negotiate individual trade deals with other EU countries, which is not permissible under EU rules: "Post Brexit a UK-German deal would include free access for their cars and industrial goods, in exchange for a deal on everything else," he said on May 26.
Scotland voted EU Remain
In the June 23 referendum on EU membership, Scotland voted in favor of the UK staying in the bloc by a margin of 62 percent to 38 percent - with all 32 council areas backing the Remain campaign.
Since the referendum vote, Sturgeon has held talks in Brussels and with other EU members on the possibility of Scotland securing a place in the EU after the UK decision to leave.
"We will seek to enter into immediate discussions with the EU institutions and the other EU member states to explore all possible options to protect Scotland's place in the EU," Sturgeon had said after the June vote.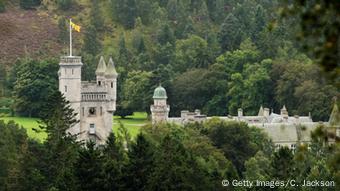 Queen Elizabeth II's summer residence, Balmoral Castle, Aberdeenshire
Scotland as part of the union
May also sought to quash the idea a second referendum for Scotland on leaving the UK: "As far as I'm concerned the Scottish people had their vote, they voted in 2014, and a very clear message came through, both the United Kingdom and the Scottish Government said they would abide by that," May said.
But Sturgeon said after Friday's meeting: "I work on the basis that trying to block a referendum, if there's a clear sense that that's what people in Scotland want, would be completely the wrong thing to do." She added: "I think it would be inconceivable for any Prime Minister to seek to stand in the way of a referendum if that's what the Scottish parliament voted for."
Sturgeon has suggested a second referendum on Scottish independence from the UK was "highly likely," although the timing would depend on indications from voters. Statistics show trade between Scotland and the rest of the UK accounts for 65 percent of all Scottish exports.
In 2014, Scotland rejected independence from the UK by a 55-45 percent margin in a referendum.
Conservatives in Scotland
Speaking later to Conservative Party activists in Edinburgh, May repeated her commitment to making Britain a country which worked "not for the privileged few."
May's Tories have only MP in the UK parliament representing a Scottish constituency. However, in 2016 Scottish elections, they seized 31 of 129 seats, becoming the second power after Sturgeon's SNP - and the party also has one of six Scottish MEPs in Brussels.
jm/msh (Reuters, AFP)