In the land of BMWs, Mercedes and unlimited speeds on many highways, a look at the prices at the pump these days gives German motorists a bad case of sticker shock.
Prices for gasoline have soared in recent weeks to more than €1.20, or almost $1.50, per liter. Lawmakers from the opposition conservatives and neo-liberal Free Democrats (FDP) have now called on German Chancellor Gerhard Schröder to act jointly with the oil industry to bring down gas and fuel prices. Rainer Brüderle, economic affairs spokesman for the FDP fears that this year's nascent economic upswing in Germany could be impaired if Schröder doesn't move swiftly.
A severe risk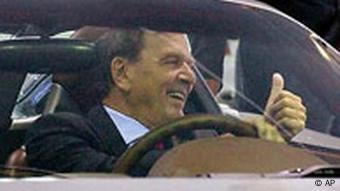 The car-loving chancellor: Gerhard Schröder behind the wheel of a Porsche Carrera GT.
"The situation right now," he said, "is that modest economic growth in Germany is being severely put at risk by rising gas prices. The chancellor likes to present himself as a motoring enthusiast and a potent broker in all sorts of things. So he should quickly act now and get German gasoline producers, the Cartel Office and politicians to sit down and discuss how prices can be reduced."
The debate over the cost of oil comes at a time when the German economy is slowly climbing out of three years of stagnation and is expected to grow by a meager 1.5 percent this and next year. Economic growth is also being hampered by widespread domestic uncertainty about jobs and incomes, causing Germans to save more and spend less.
In addition, experts believe an oil price above $40 per barrel could fuel inflation in Europe and prompt the European Central Bank to raise interest rates. This would mean an almost certain end to economic growth in Germany. And that's causing German opposition politicians, like the FDP's Brüderle, to demand government action to lower a number of taxes that help jack up fuel prices here.
"We cannot influence the market price for oil," Brüderle said, "but we can do something about taxes. More than 70 percent of the overall gas price is determined by government taxes and levies, including the controversial ecology tax on fuels and energy. We are demanding that the eco tax be lifted for a certain period of time, so that fuel prices can come down to a tolerable level. We have to stabilize the economy and the chancellor should be focusing his efforts in this direction."
Schröder, however, is unlikely to heed the opposition's call, as a huge chunk of the revenues from the eco tax are being used to stabilize the German statutory pensions system in an effort to keep non-wage labor costs in check. Meanwhile, the Social Democrats' junior coalition partner in government, the Green Party, is clamoring for higher fuel prices, not lower ones. The party believes this will eventually force the auto industry to produce more fuel-efficient cars as well as force consumers to embrace the energy-saving technologies of the future.